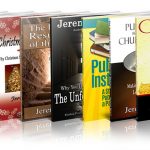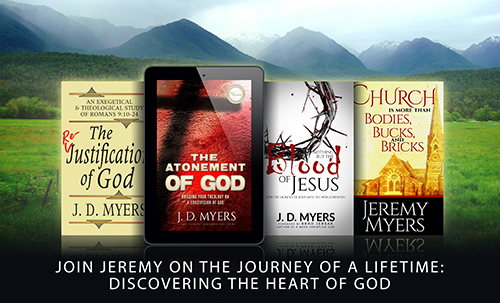 Below is a list of books I have written or contributed to. At the bottom of the page are some books that I am currently writing.
By reading these books, you will learn to see Scripture and theology in a new light, will find greater freedom in your walk with God, and will be challenged to love other people like Jesus. Pick a book and start your transformation today!
Here are the books I have published so far…
Books by Jeremy Myers
Do you have difficulties reconciling God's behavior in the Old Testament with that of Jesus in the New?
Do you find yourself trying to rationalize God's violent demeanor in the Bible to unbelievers or even to yourself? Does it seem disconcerting that God tells us not to kill others but He then takes part in some of the bloodiest wars and vindictive genocides in history?
The answer to all such questions is found in Jesus on the cross. This book examines five key terms related to the crucifixion of Jesus to answer the questions above.
This book is based on five of the words I discuss in the online course, The Gospel Dictionary, which is available to members of the online discipleship group. Join today!
After reading this book, you will NEVER read the Bible the same way again.
By reading this book, you will learn to see God in a whole new light. You will also learn to see yourself in a whole new light, and learn to live life in a whole new way.
The book begins with a short explanation of the various views of the atonement, including an explanation and defense of the "Non-Violent View" of the atonement. This view argues that God did not need or demand the death of Jesus in order to forgive sins. In fact, God has never been angry with us at all, but has always loved and always forgiven.
Go here to learn more about The Atonement of God
Did God harden Pharaoh's heart? Does God hate Esau?
These, and other related questions, are answered in this easy-to-read and insightful book by J. D. Myers.
Romans 9 has been a theological battleground for centuries. Scholars from all perspectives have debated whether Paul is teaching corporate or individual election, whether or not God truly hates Esau, and how to understand the hardening of Pharaoh's heart. Both sides have accused the other of misrepresenting God.
In this book, J. D. Myers presents a mediating position. Gleaning from both Calvinistic and Arminian insights into Romans 9, J. D. Myers presents a beautiful portrait of God as described by the pen of the Apostle Paul.
There is also an online course that goes along with this book. Join the discipleship area to take this course for free.
Stop worrying about how to pray, and just start praying! This book reveals the simple truth that you already know how to pray.
Once you know how to pray as discussed in this book, you will also discover that you already know what to pray for and how to see more answers to your prayers.
Read this book and find the freedom and power in your prayer life you have always longed for.
There is also an online course that goes along with this book. Join the discipleship area to take this course for free.
How do you define the church?
Having a proper definition of church is absolutely necessary if we are going to function the way God wants in this world.
But defining the church is not as boring as it sounds! In discovering the biblical definition of church, you will also discover answers the most basic questions all humans have about their own existence and identity. Understanding church is the first step in understanding everything!
There is also an online course that goes along with this book. Join the discipleship area to take this course for free.
In a day when many are looking for ways to revitalize the church, Jeremy Myers argues that the church should die.
This is not only because of the universal principle that death precedes resurrection, but also because the church has adopted certain Satanic values and goals and the only way to break free from our enslavement to these values is to die.
But death will not be the end of the church, just as death was not the end of Jesus. If the church follows Jesus into death, and even to the hellish places on earth, it is only then that the church will rise again to new life and vibrancy in the Kingdom of God.
Yes, you can BE the church in your community.
All Christians want to serve God, but few find much significant opportunity in the Sunday morning "church service."
This book shows you that the most significant service of the church does not take place on a Sunday morning in a building with a steeple, but actually takes place in your neighborhood and workplace as you live and love like Jesus.
YOU are the church service as you serve others in the world.
Many people define church as a place and time where people gather, a way for ministry money to be given and spent, and a building in which people regularly meet on Sunday mornings.
In this book, author and blogger Jeremy Myers shows that church is more than bodies, bucks, and bricks.
Church is the people of God who follow Jesus into the world, and we can be the church no matter how many people we are with, no matter the size of our church budget, and regardless of whether we have a church building or not.
Could Christianity exist without religious rites or legal rights? In Dying to Religion and Empire, Jeremy Myers not only answers this question with an emphatic "Yes!" but argues that if the church is going to thrive in the coming decades, we must give up our religious rites and legal rights.
Regarding religious rites, Jeremy Myers calls up on the church to abandon the quasi-magical traditions of water baptism and the Lord's Supper and transform or redeem these practices so that they reflect the symbolic meaning and intent which they had in New Testament times.
This book not only challenges religious and political liberals but conservatives as well. It is a call to leave behind the comfortable religion we know, and follow Jesus into the uncertain and wild ways of radical discipleship. To rise and live in the reality of God's Kingdom, we must first die to religion and empire.
Using irony, satire, and humor, Jeremy Myers writes Adventures in Fishing (for Men) as an allegorical story about a man's quest to become a successful and world-famous fisherman—without ever catching any fish.
Adventures in Fishing (for Men) pokes fun at some of the popular evangelistic techniques and strategies endorsed and practiced by many Christians in today's churches. The stories in this book show in humorous detail how little we understand the culture that surrounds us or how to properly reach people with the Gospel of Jesus Christ. The story also shows how much time, energy, and money goes into evangelism preparation and training with the end result being that churches rarely accomplish any actual evangelism.
Are you worried that you have committed the Unforgivable Sin? That because of something you did or said, God hates you and is going to send you to hell forever?
Do not be afraid any longer.
Through careful research and loving explanation, Jeremy Myers shows what the Unforgivable Sin is and why you have not committed it.
Read this book and learn more about God's love and forgiveness for you.
Christmas Redemption looks at some of the symbolism and traditions of Christmas, including gifts, the Christmas tree, and even Santa Claus and shows how all of these can be celebrated and enjoyed by Christians as a true and accurate reflection of the Gospel.
Though Christmas used to be a pagan holiday, it has been redeemed by Jesus.
If you have been told that Christmas is based on the Roman festival of Saturnalia, that putting up a Christmas tree is idolatrous, or that Santa Claus teaches children to be greedy, then you must read this book! In it, you will learn that all of these Christmas traditions have been redeemed by Jesus and are good and healthy ways of celebrating the truth of the Gospel and the grace of Jesus Christ.
Get your book published this year!
If you want to publish a book, this is the publishing guide you need. It contains nearly 200 pages of detailed step-by-step guides (complete with screen shots) for writing your manuscript, preparing it for publication, and getting it transformed into an eBook for the Kindle, iPad, and Nook, as well as detailed instructions on publishing your book as a paperback.
Additional tools, tips, and websites are also provided which will help get your book published.
When billions of people disappear from planet earth, what will government leaders tell the people who remain? This is a a book of science fiction dealing the rapture and the Antichrist.
This is (so far) the only work of fiction that I have written. It was primarily written as a way for me to experiment with writing books and to learn the self-publishing process. The book is also my shortest book ever written, coming it at less than 10,000 words.
So only buy the book on Amazon if you want a quick read with a creative look at what the president of the United States might say when the rapture occurs.
Members of RedeemingGod.com get Bulk Discounts on these Books
If you join the discipleship area of RedeemingGod.com, you can buy bulk paperback copies of most of these books at a significant discount, usually saving you about 50% off the total retail price of these books on Amazon. This is a great way to read through these books with a book club or small group study.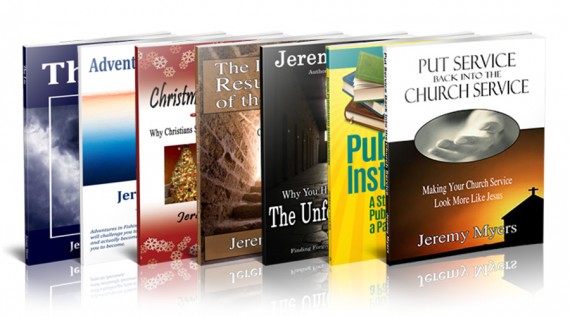 Books Jeremy Myers Contributed To
Simple Church: Unity within Diversity by Eric Carpenter
This book is an attempt to shed light on the above question and provide some answers. The twenty-four contributors all hope this book will help people, both inside and outside the church, better understand what simple church life is all about.
Finding Church 
This is a compilation of numerous stories from over 30 authors who have sought to follow Jesus in unconventional ways. Some of them have "left" the traditional church to be the church in alternative ways. Others have switched from one church to another. A final group stayed within their own church to help reform it from within.
Faith Shift by Kathy Escobar
After years of participating in a comfortable faith tradition, many find themselves in a spiritual wilderness, feeling disillusioned with church, longing for more freedom and less religion in their lives. This book helps you find direction.
The Practice of Love: Real Stories of Living Into the Kingdom of God
True stories about people's attempts to live out the Gospel in daily life. 
Not Alone: Stories of Living with Depression 
True stories from people who have dealt with depression, or are dealing with it. If you, or someone you know, struggles with depression, the stories in this book are reminders that those with depression are not alone.
Books "In the Works" by Jeremy Myers
These are the current books I am working on. Become a member of RedeemingGod.com to be the first to learn about them when they get published.
Commentary on the Gospel of Luke
Commentary on Jonah
Commentary on Esther
Commentary on 1 Corinthians
Commentary on Genesis 1
Commentary on Genesis 2-4
Close Your Church for Good 
Imperative Theology
God's Blueprints for Church Growth
Good News for Believers (3 volumes)
NIN: A Novel
Cruciform Pastoral Leadership
Christian Questions Series (Multiple Volumes)
Redeeming God (7 volumes)
Jesus Fulfills Religion
The Bible Mirror
When God Pled Guilty
Journal Articles by Jeremy Myers
Below are a few articles that have been published in theological journals.