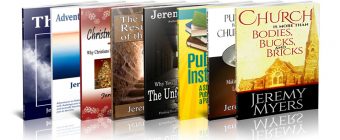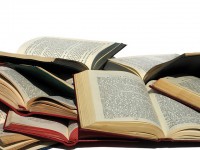 Below is a list of books I have written or contributed to. At the bottom of the page are some books that are currently being written.
By reading these books, you will learn to see Scripture and theology in a new light, will find greater freedom in your walk with God, and will be challenged to love other people like Jesus. Pick a book and start your transformation today!
Here are the books I have published so far…
Books by Jeremy Myers
The Atonement of God – After a brief survey of the four main theories of the atonement, this book provides new insights into 10 areas of theology that will change your life and relationship with God forever. You will learn to read Scripture, view God, and see yourself in a whole new light. You will see that all your sins are already forgiven, past, present, and future, and that God is madly in love with you.
Church is More than Bodies, Bucks, and Bricks – This book considers the idea that church is about so much more than the building on the corner, the people who sit in the pews, or the amount of money that gets given to the budget. We all know this to be true, but in practice, many Christians live exactly the opposite. Read this book to gain insights and concrete ideas about how to move your church away from its reliance upon buildings, crowds, and money.
The Death and Resurrection of the Church – At a time when many churches are struggling to stay open and many other churches are seeking ways to be relevant and missional in our society and culture, this book argues that the best thing churches can do today is to die. Only after the church dies can it rise again to be all that Jesus desires in this world.
Put Service Back into the Church Service – This book challenges readers to follow a few simple principles and put a few ideas into practice which will help churches of all types and sizes make serving others the primary emphasis of a church service.
The Re-Justification of God – This book is an Exegetical & Theological Study of Romans 9:10-24. Many take Romans 9 as the premier passage on Unconditional Election. And while Romans 9 does teach election, the election of Romans 9 is not God choosing to give eternal life to some while damning others to hell. This book presents a completely different perspective on Romans 9.
Book Publishing Instructions – If you want to publish a book, this is the publishing guide you need. It contains nearly 200 pages of detailed step-by-step guides (complete with screen shots) for writing your manuscript, preparing it for publication, and getting it transformed into an eBook for the Kindle, iPad, and Nook, as well as detailed instructions on publishing your book as a paperback.
Finding Church – This is a compilation of numerous stories from over 30 authors who have sought to follow Jesus in unconventional ways. Some of them have "left" the traditional church to be the church in alternative ways. Others have switched from one church to another. A final group stayed within their own church to help reform it from within.
The Lie – When billions of people disappear from planet earth, what will government leaders tell the people who remain? This is a a book of Science Fiction dealing the rapture and the Antichrist.
Why You Have Not Committed the Unforgivable Sin – How to find freedom from the fear of committing the worst of life's sins.
Christmas Redemption – Have you ever had a Christian tell you it was wrong to put up Christmas trees, tell your children about Santa, or distribute gifts at Christmas because Christmas is a pagan, idolatrous holiday? They are right: it was a pagan holiday. But the holiday has been redeemed in Jesus Christ and we are free to celebrate it! This book explains more.
Skeleton Church – What is the bare bones basic definition of the church? Be careful, you might be surprised at how simple the church truly is.
Adventures in Fishing (for Men) – A satirical look at some of the common evangelism practices in the church today. Written as an allegory, I embark on the quest to become the world's greatest fisherman – all without catching any fish.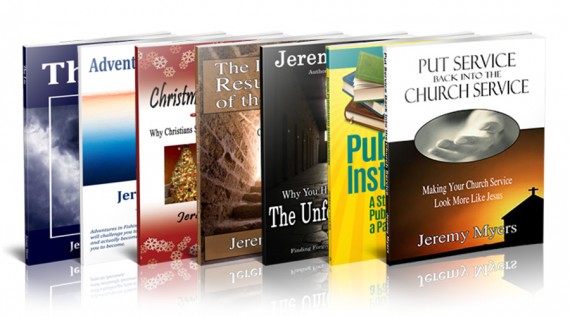 Books Jeremy Myers Contributed To
Simple Church: Unity within Diversity by Eric Carpenter. This books is an attempt to shed light on the above question and provide some answers. The twenty-four contributors all hope this book will help people, both inside and outside the church, better understand what simple church life is all about.
Faith Shift by Kathy Escobar. After years of participating in a comfortable faith tradition, many find themselves in a spiritual wilderness, feeling disillusioned with church, longing for more freedom and less religion in their lives. This book helps you find direction.
The Practice of Love: Real Stories of Living Into the Kingdom of God. True stories about people's attempts to live out the Gospel in daily life. 
Not Alone: Stories of Living with Depression. True stories from people who have dealt with depression, or are dealing with it. If you, or someone you know, struggles with depression, the stories in this book are reminders that those with depression are not alone.
Books "In the Works" by Jeremy Myers
These are the current books I am working on. Become a member of RedeemingGod.com to be the first to learn about them when they get published.
Commentary on the Gospel of Luke
Commentary on Jonah
Commentary on Esther
Commentary on 1 Corinthians
Commentary on Genesis 1
Commentary on Genesis 2-4
Close Your Church for Good 
Imperative Theology
God's Blueprints for Church Growth
Good News for Believers
NIN: A Novel
Cruciform Pastoral Leadership
Nothing But the Blood of Jesus
Redeeming God (7 volumes)
Jesus Fulfills Religion
The Bible Mirror
When God Pled Guilty
Journal Articles by Jeremy Myers
Below are a few articles that have been published in theological journals.