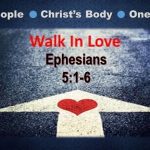 Imitate God by walking in love (Ephesians 5:1-2a)
A. Love of Christ (Ephesians 5:2b-c)
1. toward us (Ephesians 5:2b)
2. toward God (Ephesians 5:2c)
B. False Love (Ephesians 5:3-4)
1. sexual sin (Ephesians 5:3)
2. sinful speech (Ephesians 5:4)
C. Results of False Love (Ephesians 5:5-6)
1. disinheritance (Ephesians 5:5)
2. discipline (Ephesians 5:6)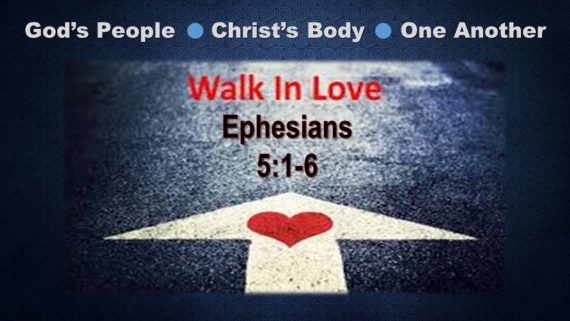 Harry Chapin wrote a song called "Cats in the Cradle." Most of you have probably heard it before, but let me read the lyrics for you.
A child arrived just the other day.
He came to the world in the usual way.
But there were planes to catch, and bills to pay.
He learned to walk while I was away, and he was
talkin' 'fore I knew it, and as he grew, he say,
"I'm gonna be like you, dad,
You know I'm gonna be like you."
And the cat's in the cradle, and the silver spoon
little boy blue and the man on the moon.
"When you comin' home, dad?" "I don't know when.
But we'll get together then.
You know we'll have a good time then."
My son turned ten just the other day. He said,
"Thanks for the ball, dad, come on let's play.
Can you teach me to throw?" I said "Not today.
I got a lot to do." He said, "That's okay."
And he, he walked away but his smile never dimmed. It said,
"I'm gonna be like him, yeah,
you know I'm gonna be like him."
And the cat's in the cradle, and the silver spoon,
little boy blue and the man on the moon.
"When you comin' home, dad?" "I don't know when.
But we'll get together then.
You know we'll have a good time then."
Well he came from college just the other day.
So much like a man I just had to say,
"Son I'm proud of you. Can you sit for a while?"
He shook his head, and said with a smile,
"What I'd really like, dad, is to borrow the car keys.
See ya later. Can I have them please?"
And the cat's in the cradle, and the silver spoon,
little boy blue and the man on the moon.
"When you comin' home, son?" "I don't know when.
But we'll get together then, dad.
You know we'll have a good time then."
I've long since retired, my son's moved away.
I called him up just the other day.
I said, "I'd like to see you, if you don't mind." He said,
"I'd love to, dad, if I could find the time.
You see my new job's a hassle and the kids with the flu.
But it's been sure nice talkin' to you, dad.
It's been sure nice talkin' to you."
And as I hung up the phone it occurred to me,
he'd grown up just like me.
My boy was just like me.
And the cat's in the cradle, and the silver spoon,
little boy blue and the man on the moon.
"When you comin' home, son?" "I don't know when.
But we'll get together then, dad.
You know we'll have a good time then."
Tragic, isn't it? This little boy wanted to be like his dad so much. He loved his dad. Respected his dad. Wanted to imitate his dad. But his dad never had time for him.
And finally, when the dad had time for his son, his son had grown up to be just like him, and had no time.
Tragic, but so common in our world.
How thankful we can be then, that as children of God, He always has time for us, and He is always there for us, and He gives us a good model to follow.
As we work our way through the book of Ephesians, we come now to Ephesians 5, where Paul provides some instructions on how to follow in God's footsteps. How to live like God. How to be like our heavenly father. How to imitate God.
Today we will see how to imitate God in His love.
Imitate God by Walking in Love (Ephesians 5:1-2a)
We begin in Ephesians 5:1, where Paul says
Ephesians 5:1. Therefore be imitators of God as dear children.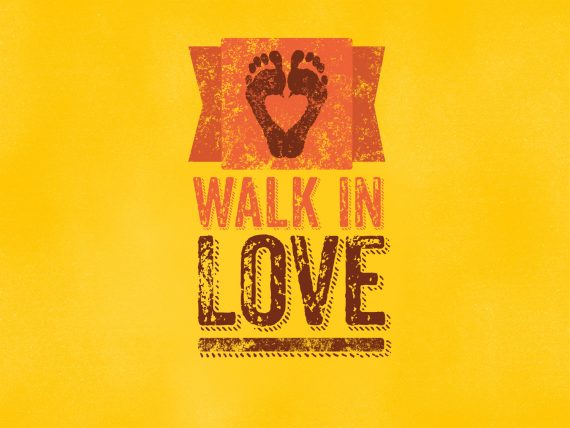 Note first of all that Paul is basing this command to imitate on what he has already said. In using that word Therefore, he points us back to what he has already said.
Remember, Ephesians 1–3 are all about what we as Christians have been given from God. It is about how rich we are. And then, Ephesians 4–6 are about how we are supposed to use those riches.
So these things we are supposed to do in Ephesians 4–6 are not from our own effort or done out of obedience to the law, but they are done by grace, through faith, as we trust and rely on what God has given us in Christ so that we do what God wants us to do.
In Ephesians 4, Paul told us to walk in Unity, and to walk in Purity as a new-made man. As Christians, we should live in such a way that people can see we are different than every other person. We are unique. We are the type of men and women that all men and women want to become. That is the type of people we are to be.
Now, Paul raises the standard quite a bit more, and more than just walking in a way that men should, he tells us to walk in a way that imitates God Himself.
This is not really a new thing we are supposed to do. Rather, it is a return to what we originally were.
Remember in Genesis when God created Adam and Eve, we are told that we were created in the image and likeness of God.
When we sinned, we lost much of that image of God, and now Paul is calling us back to what we originally were intended to be. He calls us here in Ephesians 5:1 to be imitators of God.
The Greek word is mimetai, which is where we get our word mimic. As Christians, we are supposed to mimic God.
If you see God doing something, you are supposed to do it. If you see God acting in some way, you act that way.
It's just like when little children love their parents, they try to do what their parents do. This is what Paul implies at the end of verse one when he says as dear children. We've all seen little girls try to put on their mommy's dresses, hats, high-heels and make up. We've all seen little boys try to help their dad mow the lawn, or work on the car.
When my wife I started to feed our first child solid food, we learned that she loved to mimic us. If we drank out of cup, she watchds with mouth hanging open and eyes wide, and if we gave her a cup—even if it was empty—she would put it to her mouth and tip it back.
When we fed her some baby food, if we wanted her to open her mouth wide, it helped to open our mouth wide first, so that she would mimic us.
Children do this, because they love us and they know they are loved. Children are born imitators. Which is what Paul says here in Ephesians 5:1. The word used here for dear is the Greek word for beloved. It is agapeta. We all recognize that as a form of the word agape, which we know as the perfect kind of love.
So Paul is saying in verse one, since God loves you so much, and since you love Him, and since you know He would never lead you astray—I want you to mimic God. I want you to imitate Him.
And the first way, which are going to look at today in Ephesians 5:2-6 is love. Paul says it right there at the first part of Ephesians 5:2.
Ephesians 5:2. And walk in love,
Remember, walk is the main action verb used in Ephesians 4-5. Ephesians 1–3 were all about sitting and learning what our possessions were in Christ. Ephesians 4–5 are about how to walk as a Christian.
And here we are told that the first way to imitate God is by walking in love. And just in case you're curious, the love is agape love again. It is the kind of perfect, unconditional, all-consuming, never ending love God has for us.
Now this kind of love is a little bit hard to grasp, and even harder to apply to our lives as humans. How can we, as sinful humans, have unconditional love? Is that even possible for us?
If it is possible, if we do want to mimic the love of God, what would it look like?
Well, thankfully, God has provided us with the perfect picture. The greatest divine mimic of all was the person of Jesus Christ.
Now I hesitate a little bit to call Jesus Christ a mimic, because He wasn't actually mimicking God. He Himself was God.
But Jesus says that He only does what He sees the Father doing (John 4:19). That we can know the Father if we know Jesus (Matt 11:27). That if you have seen Jesus, you have seen the Father (John 14:9).
We are told elsewhere the Jesus is the image of the invisible God (Col 1:15), and that Jesus is the exact representation of God (Heb 1:3).
Jesus, because He was God, was the perfect image of God. If you want to understand what God is like, just look at Jesus. If you want to mimic God, all you have to do is mimic Jesus.
And Paul, in the rest of Ephesians 5:2, tells us that Christ was the perfect picture of the love of God. If you want to mimic the love of God—watch Christ, because He is the perfect example of love.
Love of Christ (Ephesians 5:2b)
Ephesians 5:2b. We should walk in love, just as Christ also has loved us and given Himself for us, an offering and a sacrifice to God for a sweet-smelling aroma.
This verse shows us that the love of Christ was all-encompassing. It was directed toward us and toward God.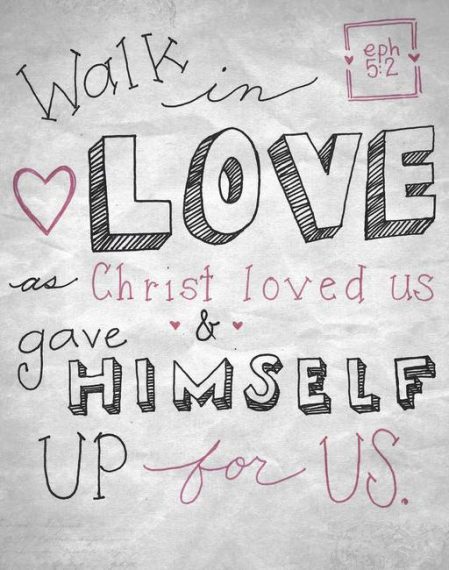 Christ's love toward us is seen from Ephesians 5:2 when it says that he has loved us and given Himself for us.
The greatest act of love anybody can give is an act of self-sacrifice for the life of another. This is why we so highly honor courageous war heroes who throw themselves on grenades to protect others.
This is why we so highly honored the firemen of September 11 who went boldly into the twin towers.
John 15:13 says, "Greater love has no one than this, than to lay down one's life for his friends."
Romans 5:7-8 is similar when it says, "For scarcely for a righteous man will one die; yet perhaps for a good man someone would even dare to die. But God demonstrates His own love toward us, in that while we were still sinners, Christ died for us."
Philippians 2:5-11 tells the whole story. How Jesus, though He was God, gave up all of His rights, and humbled Himself to the lowest possible form—and submitted Himself to death in the most humiliating and excruciating way.
And He did this all, because He loved us. The best way to see and copy Christ's love is to read and study the Gospels. Especially the Gospel of John.
Self-sacrificial love is the kind of love Jesus had toward us, and therefore, as we mimic God, the kind of love we should also have for one another.
But we also see in Ephesians 5:2 that Jesus also had loving actions toward God. These actions are that He became an offering and a sacrifice to God for a sweet-smelling aroma. The picture which should come to mind when we read this phrase is the picture of the Old Testament sacrificial system.
Over and over again, we are told that this offering or that offering was an aroma, pleasing to the Lord (e.g., Lev 1:9, 13, 17; 2:2, 9; 12; 3:5, 16; 4:31; etc.). The offerings and sacrifices helped the Israelites think that they could approach God. (God didn't want the sacrifices, but the people did. They thought sacrifices helped them atone for their sins.)
So also, Jesus offered Himself up as a sacrifice to God. Again, this was not for God. God didn't want or need Jesus to sacrifice Himself. But just as the sacrificial system was for us (not God), so also, the sacrifice of Jesus was for us (not God). And since God loved us humans so much, and since Jesus offered Himself for us, the self-sacrifice of Jesus was a sacrifice of love. Therefore, it was a sweet-smelling aroma to God. Notice that Jesus didn't burn to death on the cross, so the sweet-smelling aroma was produced by the actions of His love.
God loved to see Jesus offer Himself in this way, because this is also what God has been doing for humanity since the foundation of the world. God has often offered Himself up as a sacrifice to humans, as we blame Him for our own problems, accuse Him for things we ourselves were guilty of, and in taking the blame, He laid down His honor and glory for our sake. He sacrificed His name and character for our sake, taking on the appearance of a monster and a criminal, just like Jesus did on the cross.
Just as Jesus imitated God, we also can imitate Jesus Christ, and in this way, offer up a sweet smelling aroma to the Lord.
Paul, having given us the two ways Jesus revealed the love of God, now decides to show us how to be loving toward one another and toward God, but decides to approach it from the negative viewpoint.
He takes some of the common ideas of love and shows how in reality, they are not loving at all. The two primary methods we have of showing love is with our actions and with our words.
But in our sinful society, these two forms have been twisted and perverted, so that often, when people think they are being loving, they really are not. Rather, they are showing false love.
False Love (Ephesians 5:3-4)
Ephesians 5:3-4. But fornication and all uncleanness or covetousness, let it not even be named among you, as is fitting for saints; neither filthiness, nor foolish talking, nor coarse jesting, which are not fitting, but rather giving of thanks.
Some people today have tried to soften the Christian mandate to live upright and holy lives. They say that since our culture is getting increasingly lax in their morals, that as Christians, we should lower the standard a bit so as to be more appealing.
But Paul does nothing of the sort here. But we say, "Well, our culture is looser in its morals than Paul's was, so we need to be given some leeway." This argument doesn't hold up either. The city of Ephesus was probably more pagan than ours is today.
It was the location of the temple to the Roman goddess Artemis who was the goddess of sex. And so the city was filled with temple prostitutes and every other sort of wickedness associated with it (see Acts 19). Their society championed immorality and impurity just as much as ours does.
But Paul does not water down the standards here, and so neither should we. In these verses Paul lists three sexual sins which should not be practiced by the Christian who is trying to walk in a loving manner. These sins are contrary to love and are actually unloving. They are false forms of love.
In fact, they are sinful. They are sexual sins.
He goes from describing the ultimate self-sacrificial love of Christ which we should imitate to mentioning the self-indulgent lust.
Despite what the world teaches, love is not equated with sex. Most people believe that "free" sex is harmless, and that nobody gets hurt as long as both partners are consenting adults. But Paul is going to point out that this is not true, and he does that by listing three sins.
The first sin Paul lists in Ephesians 5:4 is fornication. The word he uses is pornea. It literally means prostitute. It is from this word that we get our word pornography—which means writing or pictures about prostitutes.
But when Paul uses the word here, it refers to all kinds of sexual immorality and sexual sin. Fornication is when people sleep around, or commit adultery, or have sexual relations before marriage.
Fornication is also when we allow our thought life to be controlled by sexual temptation. For some men, this involves looking at magazines or watching movies where sexual temptations are encouraged and fed. Even many television shows on the network channels on weekday nights feed this kind of temptation.
And women are not immune to this either. I think a strong case could be made for some—not all, but some—romance novels being female pornography. When men look at pornography, it often results in them comparing their wives with the pictures they see on the page, or on the television screen.
But a similar thing happens to women who read certain romance novels. The men in those books are fantasy, and hoping your husband will be like a man in a romance novel is just as damaging to a marriage relationship as if a man looks at pornography and wishes his wife looked like those women.
Fornication is prevalent in our society today among men and women.
Next, Paul mentions uncleanness. This word means what it says. Unclean. Impure. It is used in Matthew 23:27 for filth and rottenness. It probably refers to all kinds of sexual impurity and perversion. I don't need to catalogue them for you here.
Third, Paul tells us to refrain from covetousness. This could also be translated as greed. It's the desire to want more, to want bigger and better things. In context, it probably refers to those who are greedy for more and more of the sins already listed. Covetousness leads to addiction.
Covetousness and greed in this area of our lives will also lead to some of the most horrible perversions that have ever been performed.
But again, I want to refrain from going into detail. Let me explain why.
In Ephesians 5:3, Paul is saying more than just don't do these things. Look at the next part of the verse. He says, let them not even be named among you. In other words, don't even talk about them. We'll see more of this next week when we look at Ephesians 5:12, where Paul says that it is shameful to even discuss what the wicked do in secret.
Now I think this is where many of us go wrong today. We know that actually committing these sins are wrong, but we like to walk on the edge. We like to tell others what "so and so" did. We like to hear about the newest scandal. We like to read about men and women behaving in ways God did not intend. We like to watch shows and movies where these types of things are discussed.
It is a grim commentary on our culture that many books, plays and movies have had great success simply because they dealt with forbidden and ugly things. And we wonder why our culture continues to degenerate.
"Freedom of speech!" we cry. But too much discussion of evil—even if we discuss it in disapproval, is an invitation to bring that sin into our own life.
Rather, our mouths are to be used for more useful things. In fact, he says there at the end of Ephesians 5:3, that as saints, or as Christians, it is not fitting or proper to do or to talk about such things.
So, one of the ways we love is through our actions. And Paul shows us here that the worldly form of loving is actually lust and is therefore sin. If we want to be truly loving in our actions, our model is Jesus Christ.
But there is another way we reveal love, and that is with our words. And again, Paul shows us how to be loving in this way by telling us what not to do. Ephesians 5:4 is about sinful speech.
And again, he lists three sins. Three ways to abuse our tongue. We talked about this extensively back in 4:29, but let me go through these three words real quickly.
The first is filthiness. This refers to any kind of shameful, disgraceful or indecent language.
Next, Paul lists foolish talking. This is an interesting word in the Greek. It is a contract word, which means it is made up of two words. The second word is logos, which many of you recognize as the Greek word for word. It is the word used in John 1:1 where Jesus is referred to as The Word.
But the first part of this contract word is moron. Did you know that was a Greek word? It means fool or foolish. So the word here is morologia. Foolish words. Foolish talking. Moronic words.
Talking which has no substance. Talking which has no point. Talking the way fools do—just because they want to talk, not because they really have anything to say.
Finally, coarse jesting. Lewd jokes. Sexual innuendoes. Crude humor. Humor itself is great. Laughter is a wonderful gift from God. Sometimes, Christians think they have to be sour and dour, and always frown on anybody who is having fun.
That's not true! We should be the most fun loving, joyful people around!
But we must not confuse good humor with coarse joking. It has been said that where sin is regarded as amusing, the practice of it comes easy.[1]
Let's see if I can step on some more toes here. TIME magazine, dated July 29, 2002 ran an by Richard Corliss describing the disgusting script and scenes of the new Austin Powers movie starring Mike Myers.
Now I am not trying to single out Austin Powers. I think there are probably many movies which are not fit for the eyes and ears of Christians, but this movie makes the point because it is currently in the theaters, and because of this article about it in TIME.
I'm not going to read the article, for that would be doing what Paul tells us not to do here. Let me just give you the title. It is called, "This Essay Is Rated PG-13." And then the sub-title: "But with all the toilet humor it describes, it should really be rated R."
This non-Christian writer seems to have grasped something which every Christian who goes to see that movie—or similar movies—has not. This sort of crude-humor, and coarse jesting is not fitting for anybody to talk about or listen to—much less Christians.
If a non-Christian realizes this, why don't we? It is not right that our thoughts and our minds and our mouths should be so occupied with such filthiness, foolish talking and coarse jesting.
Rather, at the end of Ephesians 5:4, our mouths should be used for giving of thanks.
How can our mouths be a pleasing aroma to the Lord? By using them for His glory. By praising Him. By giving thanks. That is how we can use our mouths in a loving manner.
So, Jesus revealed love by making Himself an offering and a sacrifice to God. We too, if we want to be like Jesus, and imitate God in His love, we can offer our mouths and words to God in praise and thanksgiving. We can give to Him a sacrifice of praise (Heb 13:15).
We can give thanks in everything, as is the will of God (1 Thess 5:18). In this way, we too, can live a life of love toward God.
But Jesus also revealed love toward other people. And as we follow Jesus, we too will show love through our actions and through our words.
Now, if we refuse to follow Paul's instructions here, there are serious consequences which we must be aware of. Paul spends the next few verses talking about the results of false love.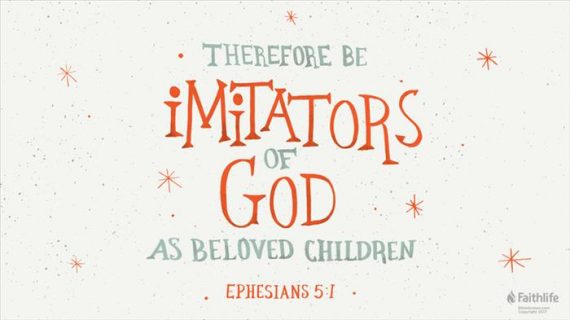 Results of False Love (Ephesians 5:5-6)
Ephesians 5:5-6. For this you know, that no fornicator, unclean person, nor covetous man, who is an idolater, has any inheritance in the kingdom of Christ and God. Let no one deceive you with empty words, for because of these things the wrath of God comes upon the sons of disobedience.
Ephesians 5:5 lists the first result. The result is disinheritance. In this verse, Paul again mentions fornication, uncleanness and covetousness—which he here equates with idolatry. We've already talked about these, so nothing more needs to be said about them.
Of course, he does give us a bit of extra insight here into the sin of covetousness, by saying that the covetous man … is an idolater. And that's true. The covetous man desires the things of this world more than he desires God. And any time we place worldly possessions or worldly prestige above God, we have become an idolater.
It's the consequence that is important. Paul says here that those who live in such unloving ways, will not receive any inheritance in the kingdom of Christ and God.
Does this mean that those who live this way are not going to heaven? Does it mean that those who live this way are not really Christians—even if they claim to be?
No, it does not mean that at all. Justification, or gaining eternal life, has nothing whatsoever to do with our works or lack of works, but is freely given by the grace of God to all who will simply believe in Jesus Christ for it.
If you have believed in Jesus Christ—you have eternal life. But believing in Christ does not guarantee that you will live like Christ. We all still live in ways that we should not. We all still do things that we should not.
And when we do, Paul tells us here, not that we lose our eternal life, but rather that we lose future reward in heaven and our inheritance in the kingdom. We lose out on opportunities to reign with Christ.
Every time we are tempted, we have a choice—to either follow the temptation or to obey God. If we follow the temptation and sin, we lose out both now and for an eternity on what we could have had if we had obeyed God.
That is what Paul is talking about here when he tells us that those who live this way will not receive any inheritance in the kingdom of Christ and God. A very serious warning to stay on the straight and narrow.
That's the first negative result. Disinheritance.
Secondly, in Ephesians 5:6, if we do not live in a loving way, we will be disciplined.
Paul mentions empty words, which, in my opinion, sums up the filthiness, foolish talking and course jesting which he mentioned in Ephesians 5:4. He tells us to not let anyone deceive you with empty words. In other words, some people will try to get you to sin by giving you fine sounding arguments and smooth talk.
Invitations to sin are always deceptive, aren't they? "Oh, just try it this once. Who's going to know? Oh come on, you don't really believe it's a sin, do you? Take the shortcut; why make life harder on yourself? You deserve it."
And when you heed such empty words, they deceive you and lead you into unloving, sinful behavior.
And such behavior leads to another disastrous result. He says at the end of Ephesians 5:6 that because of these things the wrath of God comes upon the sons of disobedience.
Now back in Ephesians 5:1, we saw that we are children of God. And that is what we are. Nothing can make us stop being children of God.
But as children of God we have two options, just as all children do. We can either live like children of God and obey our Father, or we disobey our father, and live like—as Paul calls them here—sons of disobedience.
If we choose to live as sons of disobedience, rather than children of God, Paul tells us here that the wrath of God will come upon us. The term wrath is not a reference to hell, but is a word for discipline and punishment. Another way to think about the wrath of God is the natural consequences of sin.
Sin has consequences. God warns us against sin because He loves us and does not want to see us get hurt. But if we ignore what God says, and we go and sin anyways, then the consequences of that sin often comes upon us. In that experience, we often way, "God is punishing me!" But really, God is not punishing us. It seems that way because God warned us against the sin, and then when we sin, bad things happen to us, but these bad things are not from God but from sin. Sin bears its own punishment with it. And we often confuse this punishment from sin with a punishment from God.
The wrath of God comes upon those who disobey God. We should obey God and imitate Jesus so that we can avoid the devastating and destructive consequences of sin in our lives.
I think everybody can agree that the things Paul talks about here are wrong. That they are sinful. I think we all realize that society is in a downward spiral into sin. And I think we all realize that something needs to be done about it.
But you know what? Too often, we aren't doing what needs to be done. Oh, yes, voting is important, and standing up for the truth in our culture, and writing letters to the editor, and getting involved in politics.
But none of this will help very much to reform society if each and every one of us is not personally reformed ourselves. Statistics tell us that incest, adultery and promiscuity occurs just as much in church families as it does in unchurched families.
I am told that at a large pastor's conference in a huge city where most of the pastors were staying in a few hotels, those hotels had record sales of in-room pornographic movies.
The truth is that these sex industries could not survive without Christian support. And the only solution is to personally and individually repent and vow to no longer participate.
Do not go to it. Do not rent it. Do not read it. Do not allow the mind to dwell upon it. Do not look at it. Do not listen to it. Do not say it. Do not talk about it.
Do you want society to be reformed? Let's start with ourselves. Do you want this church to be holy? Let's start with ourselves.
Let us—each one of us—practice true and genuine love toward one another and toward God as pictured by Christ and explained here by Paul.
Notes on Ephesians 5:1-5
[1] Snodgrass, 276.