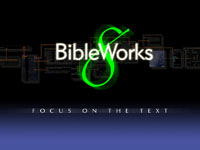 You may remember my rant from last year about Bible Study Software. I wanted something that was quick, powerful, easy to use, and didn't have built-in expiration dates. I recommended a few programs in that post, but over the past year have found myself using only one of them: BibleWorks.
I first discovered this software about 12 years ago when I was at Denver Seminary, and I have probably used it every week since then. The base software doesn't have some of the commentaries and popular Christians books that other software packages might have, but when it comes to doing primary research on the text of Scripture, there is no better software package available. And besides, other similar Bible Study software packages (like Logos) are over three times the price!
Over the next several weeks and months, as I continue to study Scripture and write commentary, I will make posts about the strength of this software package. To read more about this software now, click on the picture above.
FTC Disclaimer: I was asked to review this software on my blog in exchange for a copy of BibleWorks 8.