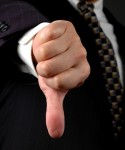 Sometimes I get some criticism from Christians for being critical of Christianity and the church. In the words of Alanis Morisette, "Isn't it ironic… don't you think?"
Nevertheless, I do understand the concern. Christians are to be known for our love. Jesus prayed for our unity. The church is too splintered and fractured. Can't we all just get along? Won't criticizing some aspects of the church lead to more disunity, lack of love, and fracturing?
I actually do not think so. Below are 10 Reasons I am Critical of Church.
Here are ten reasons I criticize the church:
Church criticism is a family matter. I am part of the church. The church has never been receptive to criticism from those outside the church, and so if pastors and church leaders do not speak up, how will the church ever change? However, if Christian leaders and writers just say positive things about the church all the time, how are we any different than the 400 lying prophets who said only good things to King Jehosphaphat (1 Kings 22:6-28)? While there is lots to praise about the church, there is also lots that needs to be corrected and fixed. Someone must speak up about these areas, and it should be those within the church, from whom "the wounds of a friend can be trusted" (Prov 27:6).
Jesus reserved his criticism for his own group. Jesus only criticized other Jewish religious beliefs and behaviors. Jesus never had anything negative to say about anybody who was not part of his own group. I have sometimes been told that there are more appropriate targets to criticize than the church. I always wonder, "Like who?" Should I be criticizing Democrats? Gays? Immigrants? Muslims? I am not a part of any one of these groups, and if I joined the already ringing chorus of Christians who lash out at such groups every chance they get, I am just reinforcing the idea in most people's minds that Christians are hateful, judgmental, critical, harsh, and mean.
Let judgment begin with the House of God (1 Pet 4:17). The apostles were quite clear that we must not be critical of those outside the faith, but only those within the household of God. Paul, in 1 Corinthians 6, calls us to practice discernment with each other since we will be judging angels in the age to come.
All the prophets were critical of Israel. It is not just Jesus and the apostles who reserved their criticism for people of their own group. This is the consistent example throughout Scritpure. Every single prophet wrote primarily against the people of their own city, their own nation, their own religion. Yes, some of them sometimes wrote against other nations and other people groups, but this was generally just to show the Israelites that they were behaving just like the "heathens" of other nations who did not know God.
Criticism leads to unity. Most believe that criticism leads to division and disunity. While this is true when criticism leads to condemnation and name-calling, criticism that is focused on speaking the truth in love generally results in greater understanding and unity between the two different parties. If there is no criticism between the two parties, then any unity that occurs between them is fake and forced. Unity forged in the fires of conflict resolution is far stronger than unity built upon painted smiles and limp handshakes.
All great reformations in church history began with criticism. I fully believe that the church is on the verge of another great reformation. The church 50 years from now will look nothing like the church of today. God is at work in our day to bring together the worldwide church in a unified way so that together we can continue the mission of Jesus in the world. But to bring a splintered church together, it is necessary to point out the areas that have caused the divisions in the first place. Division is never healed by turning a blind eye to its source.
When I point at others, I point three fingers back at me. I am not a backseat driver, an armchair theologian, or a Monday morning quarterback. Almost everything I write about is because I have already implemented it in my own life, or am in the process of doing so. I am not critical of the church just to be critical. I write about things I have done myself, and put into practice in my own life. I make sure I am a practitioner of my own criticisms before I challenge others to take similar steps. I am not always a perfect practitioner, but what I write is also a reminder and encouragement to me to continue making the changes I feel are necessary.
I do not want to destroy the church; I want it to look more like Jesus. My areas of concern with the church are not a result of hate or anger. I truly love the Bride of Christ, and desire us to become all that Jesus intends. I want us to reflect the love of God to the world, so that when people see the church, they see Jesus. But all studies and reports show that exactly the opposite has happened. People love Jesus, but they do not see Jesus in the people who claim to follow Him. The goal of my criticism is to bring Jesus and the church back into alignment in people's minds.
I want the church to expand. Sometimes people complain that my criticisms are damaging to the church. This may be true, but only to "the church as we know it." My actual goal is more like pruning. The chains of tradition are weighing the church down and keeping it from running the race that is set before it. We have picked up a lot of unnecessary baggage in the past 2000 years, and my calls for change are not intended to damage the church, but to throw off the weights that entangle our progress and hinder our movements, so that we can better follow Jesus into the world. When we become fluid and graceful again, the church will be free to love and serve as never before.
I love the church. The original goal of this website was to speak God's "Truth in Love, Letting Him Equip Christians to Obey, Minister, Evangelize, and Send" (TILL HE COMES). That is still my goal. I love the church and have always loved the church, and the only way to express that love in a website setting is to do what I can to help equip Christians for the service and ministry to which we are all called. When my posts seem critical of the church, is not because I hate the church, but because I dearly love it, and am concerned for it.
---