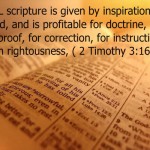 Yesterday we looked at several of the translation problems surrounding 2 Timothy 3:16, and some of the ways that translators have sought to solve these problems. In this post, I want to propose my own suggested translation of this verse.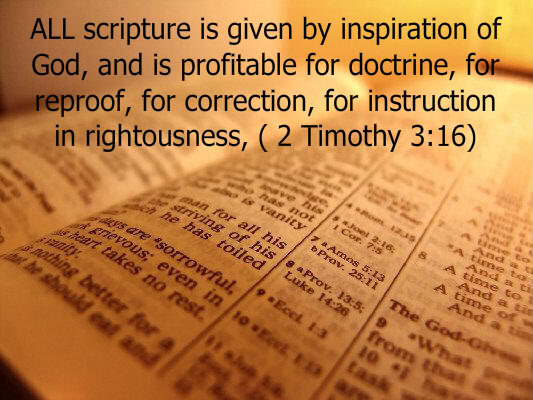 The reason this verse is so critical is because it is the only verse in the Bible which specifically speaks of the inspiration of Scripture, and if we have misunderstood the verse, then we have misunderstood inspiration. And if we have misunderstood inspiration, then we have misunderstood how we got our Bible and how to use it.
Before I explain what my suggested translation is, I want to explain how I arrived at it.
The Method to My Madness
First, I've been reading and studying theology for over twenty years now. So while I am not a wisened old-timer, I am also not a new kid on the block. This doesn't mean I'm right, it just means that I've been thinking about this stuff for a while.
Second, over the past three years, I've done a lot of reading from N. T. Wright, Walter Wink, and Walter Brueggemann which challenged my view of Scripture. More recently, I read some entries in the Theological Dictionary of the New Testament which challenged my thinking regarding the view of inspiration itself. Here are two of these quotes:
2 Tim 3:16 is not using a specific term from the world of enthusiasm, nor referring to any particular theory thereanent. As in the NT as a whole, there is also no mention of the sacredness of Scripture (VI:454).
In the notes, it says,
How far Paul is from an authenticating theory of inspiration may be seen from 1 Cor 7:10, 40; cf. 14:37.
These are challenging quotes, and made me step back and rethink inspiration. I ended up in a very different conclusion than that of the author (Eduard Schweizer), but they were still influential in kick-starting the investigation.
Third, I looked at the grammatical structure of 2 Timothy 3:16, and arranged it in a way that does not seem to be reflected by any other translation, but which seems to make more sense of the verse. I fully admit that I am not a Greek expert, and so it is possible that I made a structural error or violated some rule of Greek grammar. If so, and you are a Greek expert, please point out the error to me.
Fourthly and finally, I recognized that the Greek word, theopneustos, is very rare, and could mean a variety of things. While "inspiration" is one possible translation, it is not a translation which is either the most common, or reflects the ambiguous nature of the word. Furthermore, the word "inspiration" means so many things today, this word leads to much confusion about the doctrine of inspiration.
So, with all of that in mind, let's move on to my suggested translation of 2 Timothy 3:16.
A New Translation of 2 Timothy 3:16
Let us begin with the grammatical layout. Here is what I propose:
pasa graphē 
theopneustos kai ōphelimos
pros didaskalian
pros elegmon
pros epanorthōsin
pros paideian tēn en dikaiosunē 
In English, it looks like this:
All Scripture
is God-breathed and profitable
for teaching
for reproof
for correction
for training in righteousness
The thing I noticed when laying it out this way is that the verse has three pairs of words. "Teaching" is paired with "training" and speaks of positive instruction (what to do), while "reproof" is paired with "correction" and refers to negative instruction (what not to do). These two sets of words are parallel, meaning that each is a synonym of the other.
The third pair of words are "God-breathed" and "profitable." Since the other two sets of words are parallel, it seems likely that this third set is also parallel. They are synonyms. In other words, "profitable" is a synonym for "God-breathed."
Most translations seem to imply that "God-breathed" refers to the source or origin of Scripture (where it came from and how we got it) and "profitable" refers to the purpose and usefulness of Scripture. But if my structure above is correct, then both words refer to the purpose and usefulness of Scripture, and the verse says absolutely nothing about the source or origin of Scripture.
The surrounding context supports this view, as both the preceding and following verses are all about the usefulness of Scripture in our lives.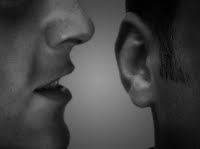 With this in mind, I began to search for a new way of translating theopneustos to more accurately reflect this, and since pneustos can be translated as "wind, breath, or spirit" thought of "wind of God" (very similar to what Jesus said in John 3:8), "God-spirited" (which was too vague for me, much like "inspiration"), or even "breath of God" or "God's breath."
I ended up going with this: "All Scripture is God whispering and is profitable…" 
Why did I translate it this way?
I did some research into how the word theopneustos was used in other Greek literature of the time, and without fail, it is used of poets and philosophers who seem to speak with a certain passion and urgency that makes people listen and obey what they are saying. But this was only in regard to what they were speaking. If someone wrote down what they said, and then passed it on, the written record of what had been spoken was never thought of as theopneustos (See TDNT VI:454). Inspiring words, once they were written down, lost their inspiring power.
Paul is saying that this is not true of Scripture. The written word of God, unlike any other writing, still maintains the breath of God upon it. When we read it, it is as if God is speaking it to us all over again, fresh, for our own ears. It is not simply a "divinely inspired record of what God said in history" but is the actual, living, voice of God, speaking directly into our lives. It is so real, you can feel His breath.
In being written, Scripture did not lose it's "Godness." It is not God, but is the voice of God, the breath of God, the whisper of God into our ears. This idea also fits with other biblical passages, such at 1 Kings 19:12 and Matthew 10:27 (Luke 12:3).
Paul's point in putting it this way is not to give us a book of theological trump cards by which we can denounce as heretics all who disagree with us. No. Theopneustos refers to the profitability of Scripture in our own lives. Scripture is not given for us to beat others over the head with, but is for God to encourage us, and help us understand Himself in a deeper way.
Maybe we could say that 2 Timothy 3:16 should more properly be placed on the theological idea of "Illumination of Scripture" where God helps us understand and apply Scripture through the help of the Holy Spirit.
So in the end, it seems that 2 Timothy 3:16 is saying that Scripture is the voice of God, the breath of God, even the whisper of God into our lives in a way that makes it profitable even for us today. Though written, it did not lose it's "inspiring" power to make us more like Jesus.
Conclusion
If you do not like "All Scripture is God whispering…" and insist on continuing to use the word "inspired" might I suggest that at least you modify it to "inspiring"? The verse would then read: "All Scripture is inspiring and profitable…" I would be happy with this translation as well. It misses the "spoken voice of God" element, but retains the parallel between "inspiring" and "profitable" and shows that the verse is more about the function and purpose of Scripture, and not about the origin.
---