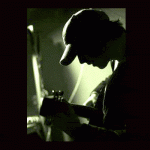 Dear Christian Songwriter,
I would like to ask you to stop writing songs.
It is clear that most of you have not experienced the pain and tragedy of life, and until you do, your songs are empty and void of meaning. Sure, you can put together a nice melody which causes people to hug and sway, but is this really what you want to accomplish through your music? If so, then ignore the rest of this letter.
But if you want your music to actually connect with people–including men–I have a few suggestions.
First, Jesus is not my boyfriend.
Jesus and I are friends, but as a man, I don't really want to be in his arms, feel his breath on my cheek, or lay my head on his chest.
These songs make me shiver. And not in a good way.
I don't want to hold his hand, sit on his lap, or kiss him. What's next? A lap dance for Jesus?
Second, enough already with the blood.
I don't want to sing about fountains of the precious blood of Jesus. Such an image belongs in a horror movie, not in a church song…unless you're going for horror, then it might be appropriate.
I mean, if you want to write a Gothic, soul-shrieking song about his torture and death on the cross, fine.  But don't write a tune that sounds like you are dancing on the rainbows, and then pair it with lyrics about blood and gore. It just doesn't work.
Third, more pain please.
I know, I know. Church songs are supposed to be uplifting and encouraging. But do you want to know what is really uplifting and encouraging?
People who deal with reality.
Most of the people in the pews are facing intense amounts of pain, loneliness, despair, hurt, fear, depression, heartache, loss, anger, frustration, bitterness, resentment, and _________ (fill in the blank for the next two pages).
When we write songs about being "happy, happy, happy all the time" it makes people just feel worse. They think, "Am I really supposed to be happy all the time? I'm not. What is wrong with me?" And then their pain, loneliness, despair, hurt, fear, depression, heartache, loss, anger, frustration, bitterness, resentment, etc., etc., only gets worse.
If you songwriters are not experiencing this kind of pain, then you should stop writing songs. Can there be happy, joyful songs? Yes, but only in the midst of the pain.
Some song suggestions.
To see what kind of songs I'm looking for, read the songs David wrote. You can find them in the middle of your Bible.
The first 100 or so are full of pain, loneliness, despair, hurt…etc. I think if he were writing songs today, they might go something like this:
I hate him God, I hate him!
Slash his tires,
May his house start on fire.
Let him get sick and die!
As I write those suggested lyrics, I am imagining a wailing grunge guitar, with some angry thrashing on the drums, and a guy screaming into the microphone.
Or maybe this:
Where are you God?
You said you will never leave.
But I don't see you,
And so I don't believe.
That melody would have the wistful feeling of being lost. A sense of discordant searching, but never settling or finding the right tempo and beat.
And I know these aren't the best lyrics, but I'm not a songwriter. You are.
One more suggestion. You know what songs I would really like to hear? Songs from the perspective of orphans and widows who have been sold into sex slavery. Songs from prostitutes who are still selling themselves. Songs of drug addicts who have not been delivered. Do any of them still believe in God? If so, what do they sing? I think that would be the most beautiful and moving music ever.
---