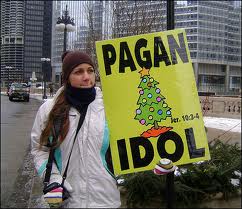 Did you know that Christmas tress are idols?
At least, that is what I was once told by a member of my church.
Several of us had gathered together on a Saturday afternoon in early December to decorate the church for Christmas. We put up lights, tinsel, red and green ribbon, poinsettias,  and the crowning glory… a tall, beautiful Christmas tree – right up in front of the sanctuary to the left of the platform. We used all white lights and wrapped it with silver and gold ribbon.
The next day, after the Sunday service concluded, one of the men in the church pulled me aside and said, "Pastor, I cannot attend a church that erects idols in the sanctuary."
I just stared at him. I had no clue what he was talking about.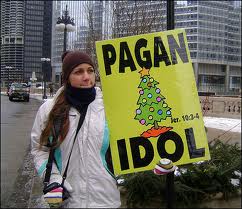 He pulled out his Bible and turned to Jeremiah 10:3-4 and had me read it. It says this:
For the customs of the people are futile;
For one cuts a tree from the forest,
The work of the hands of the workman, with the ax.
They decorate it with silver and gold;
They fasten it with nails and hammers"
So that it will not topple.
"You see?" he said. "You have erected a Christmas tree idol in the church sanctuary. Until you remove it, I and my family will not be back."
Being a young pastor at a small church, I didn't want to lose any family over such a things as a Christmas tree, and so I called a few of the elders that afternoon, and we decided that while we could not get rid of the tree (another family had donated it to the church and they would be offended if we threw it out), we could move it into the foyer. I called the man who had pointed out Jeremiah 10:3-4 to me, and while he wasn't happy that we were keeping the pagan Christmas Tree idol, he said that moving it would be good enough, and he and his family would be back in church the next Sunday.
Ironically, he and his family had a little Christmas party over at their house that year. We went. I remember walking into his house and seeing all the normal Christmas decorations. He had the lights, the tinsel, the ribbon… even some ornaments which he had hung on the wall, but no Christmas tree. Cookies were on the counter. Christmas music played on the stereo. There were even Christmas presents piled in a corner. But no Christmas tree. I remember thinking that it seemed a bit hypocritical…
He and his family left the church a few months later over something else. It had to do with the worship team this time. (And I lost the worship team as well… Ah, the joys of a small church.) I remember thinking after he left, "I sure wish I had left that tree in the sanctuary. In fact, I wish I had added a few more Christmas trees!"
Christmas Tree Idolatry
So are Christmas trees idolatrous? If you put up a Christmas tree in your house, or in your church building, are you engaging in pagan idolatry?
The answer is no… unless of course you are praying to the tree and worshiping it… in which there might be some Christmas tree idolatry going on. And no, singing "Oh Christmas Tree" does not count as praying to the tree or worshiping it…
Look, I fully admit that there was a pagan practice of chopping down trees and erecting them in public spaces or homes and decorating them with lights and gold and silver. This is a common practice among many cultures that goes back thousands of years and is part of their cultural and religious celebrations at this time of year.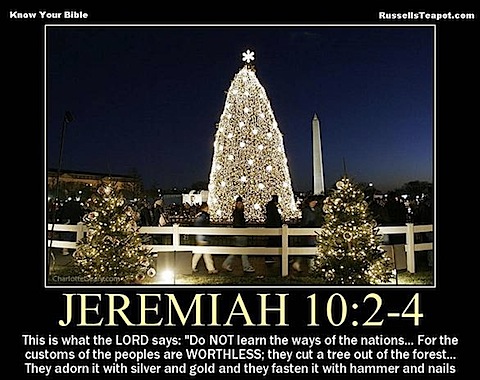 I don't think that is exactly what Jeremiah 10:3-4 is talking about, however. If you look at the surrounding context, it appears that after the tree is cut down, it is carved into a shape and then gold and silver is hammered onto it. What Jeremiah is talking about, it seems, may be the actual crafting of an idol, not necessarily the decorating of a tree itself.
But regardless, even IF Jeremiah 10:3-4 is talking about a practice that is almost identical to our tradition of putting up a Christmas tree, it is still not idol worship.
Why not? Because in the minds and practice of most Christians, the Christmas tree does not represent a pagan holiday, but represents a time when we celebrate the birth of Jesus Christ. The Christmas tree reminds us of how the Light of the World arrived to bring hope to those in darkness. The Christmas tree reminds us how shepherds and wise men brought gifts to honor His birth, and how Jesus Himself brings the free gift of eternal life to all the world. The Christmas tree even reminds us of how Jesus died upon a tree, taking our curse upon Himself, so that we might become the righteousness of God.
Though it is true that the Christmas tree may have once been a pagan symbol, it is a symbol that has been redeemed in Jesus. Just as Jesus redeems us, so also, Jesus has redeemed the Christmas tree. For most people, the Christmas tree is no longer an idol, but is a reminder of what Jesus did for us in coming to this earth as a humble babe.
Jesus is in the business of redemption. Take the cross as another example of a "tree" that has been redeemed. At the time of Jesus, the cross was a symbol of brutal torture and Roman military power. Nobody would dream of erecting a cross in their house or wearing one around their neck. But Jesus redeemed it! When people see a cross today, nobody thinks of brutal Roman torture. They think of Jesus.
The Christmas tree is the same. Though it used to be (and still is in some places) a symbol of pagan idolatry, the Christmas tree has been redeemed by Jesus and we can put one up in our houses and in our church buildings as a way of celebrating the birth of Jesus and all that He accomplished for us through His birth, life, death, and resurrection. Christmas trees have been redeemed by Jesus, just like you and me and everything else Jesus touches.
So Merry Christmas! I hope your Christmas tree is especially beautiful this year.
P.S. I wrote a short eBook on this subject…. you can get it here.