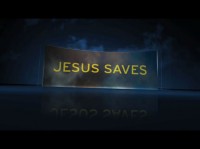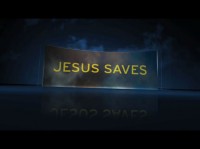 Jesus wasn't saved.
That's right.
And I have a Bible verse to prove it.
In Matthew 27:42, some of the people who were watching Jesus die on the cross said this: "He saved others; but He can't save Himself!"
You see? Jesus wasn't saved. He did not save Himself.
That's ridiculous, right?
The people in Matthew 27:42 are talking about dying on the cross. They are referring to how Jesus rescued and delivered many people from sickness and even death, and they find it ironic that although Jesus rescued others, He cannot rescue Himself from death on the cross.
And of course, we all know that Jesus could have rescued Himself, but He didn't. Jesus did indeed die on the cross. He was not saved (from death on the cross).
But does this say anything about His eternal destiny? Of course not! (Jesus always had eternal life, for in Him is life — 1 John 5:11).
Anyone with a little bit of sense understands that in the context of Matthew 27:42, the word "save" does not mean escape from hell and entrance into heaven, or receiving eternal life. The context clearly shows that the word "save" means deliverance from death on the cross.
So in the context, when people say, "He cannot save Himself" they are saying "He cannot rescue Himself from dying on this cross."
Why do I bring this up?
I have been having numerous online (and offline) conversations recently about various theological topics (baptism, unpardonable sin, women in ministry, etc.), and in these discussions, people will often quote a verse to defend their view, and these verses often includes the word "save" (cf., Matt 24:13; 1 Pet 3:21, 1 Cor 3:15; 5:5; 2 Thess 2:10; 1 Tim 2:15; James 2:14-26).
They read these verses thinking that the word "save" means "deliverance from hell, entrance into heaven, justification, or receiving eternal life," when in reality, the context indicates otherwise. But when we think the word refers to hell, heaven, justification, or eternal life, confusion and really bad theology are the results.
When Dr. Earl Radmacher used to go speak in churches, he often would open in prayer before he began to preach with these words:
Father, as I preach today to these fine people who have gathered together today, I pray that they would get saved, and I would get saved too. Amen"
He says that he always loved to pray this with his eyes open so that he could watch the reaction of the people in the pews. They would open their eyes and glance around at each other, apparently thinking, "What? Did we just bring in a guest speaker who is unsaved? Uh oh! This church is going liberal on us!"
Then Dr. Radmacher would go on to teach them something similar to what I am teaching in this post. Dr. Radmacher's prayer did not mean that he thought his listeners and himself did not have eternal life. No, he was praying that they (and he) might get saved from some incorrect thinking about God, or saved from some misunderstanding about Scripture. This is a completely appropriate and biblical thing to pray for!
Dr. Radmacher knew that the word "save" in Scripture usually has nothing to do with receiving eternal life. (If you haven't already, you should read his book, Salvation.)
The Word "Save" in Scripture
I believe that somewhere between 99%-100% of the uses of the word "save" in Scripture (and it's cognates: saved, salvation, Savior, etc.), do not refer to "deliverance from hell, entrance into heaven, justification, or receiving eternal life." Instead, some other sort of deliverance is in view (cf. Matt 8:25). See a post I wrote about the word "save" here.
From the results of my own study, I believe there are only two likely candidates for places where the word "save" refers to receiving eternal life: Acts 16:30-31 and Ephesians 2:8-9. And to be honest, I am not fully convinced about these two either (But I'm not going to explain why in this post).
So next time you are reading Scripture and come across the word "save," stop and think about what you are reading, and then look in the context to help determine what sort of deliverance is being discussed.
Isn't this just semantics?
Yes. It is.
And when it comes to the Gospel, semantics are vitally important.
How many of us have told people, "Jesus Saves" or asked people, "Are you saved?" Not only is such a statement or question not found anywhere in Scripture, it is hopelessly confusing to most people. People who have not been raised on Christian lingo automatically think, "Jesus Saves? Saves me from what?"
Don't believe me? The following pictures poke fun at Christianity, but they show you that the statement "Jesus saves" is confusing.
When telling others about the offer of the Gospel and how to receive eternal life, use the terminology most often found in Scripture: Jesus gives eternal life to anyone who believes in Him for it.
Thankfully, this offer is backed up by Jesus through His death and resurrection. Jesus was not saved from the cross so that we can have eternal life through faith in Him.