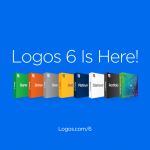 There are certain people in the history of Christianity who shock and amaze me at what they accomplished in life. Martin Luther is one of them. He translated the entire Bible into German, wrote over 70 volumes on theological topics, was a prolific hymn writer, and created the Lutheran Catechism.
I remember reading somewhere that Martin Luther was so well acquainted with the Greek and Latin biblical texts, that his mind worked like a Bible concordance in both Greek, Latin, and German. As he was writing, he made connections between texts and passages using key words, key ideas, and key phrases.
It is amazing what the human mind is capable of when saturated with the Word of God. 
But here's the crazy thing:
Any person today can have more information about the Bible at their fingertips than Martin Luther ever dreamed of.
Of course, more information does not necessarily mean better theology, but the gathering of information is at least the starting point… comprehensive biblical data forms the foundation of good biblical theology. 
So how can you have more information about the Bible available at your fingertips than Martin Luther ever dreamed of?
Three words: Bible Study Software
I have been using Bible study software for over 20 years. Initially, I used a simple concordance program, but as Bible Study software has become more advanced, I have found myself using it more and more to write my blog posts and my books.
One of my favorite Bible Study Software packages is Logos Bible Software. It also happens to be the industry leader.
And guess what? Logos just came out with their brand new Logos 6 platform. If you have used Logos Bible Study Software before as I have, then let me tell you a bit about the changes in Logos 6, and if you have never used Logos at all, you will be amazed at what it does for your Bible study and theology research.
Logos 6 Bible Study Software
Logos 6 makes it easier than ever to study the connection between texts, not just using key words, but also phrases and ideas. Check out the new "semantic relationships search" capability. It is SO cool:
Logos 6 uses all sort of cultural, archaeological, and geographical insights to help you understand the background information on a text.
Maybe some videos about Logos 6 will explain it better. Check these out:
How to Use Logos 6
If you are unfamiliar with how Logos 6 Bible study software works, these videos will help:
Perform an Inline Search
The fastest way to find words or phrases in English or the original languages without leaving your Bible.
How to Search your Entire Library
The simplest form of search that will gather information from across your library. Related resources, maps, Bible references, specific resources, and more.
Use the Ancient Literature Tool
Study the Bible against its cultural and linguistic background by making connections between the Bible and ancient texts.
Gain Insight onto Cultural Backgrounds
A new addition to the Passage Guide that helps you connect concepts that are common to the Biblical world, and explore them in other ancient texts.
Use the Logos 6 Factbook
The first stop for researching Biblical people, places, events, concepts, or things mentioned in the Bible.
Get Big Picture Overviews of Each Book of the Bible
Create Bible introductions for any book of the Bible. Find everything your library has to say about a book of the Bible in one place.
Do you Preach Sermons? Let Logos 6 help!
Build stunning presentation with inspirational quotes as you study.
Which Version of Logos 6 Should You Purchase?
If you are looking to purchase Logos 6, here is a brief video which explains the various packages and what they contain. Check out that Collector's Edition … It's valued at over $100,000!!!!
Right Now, Logos 6 is 15% off!
I use Logos 6 all the time for my writing and research, and if you want to get Logos 6 for yourself, it is available right now at 15% off. Just click the image below, select a software package from Logos, download it, and get studying!
Make sure you enter "JMYERS6" at checkout to get 15% off.

Launch your Bible study capabilities to the next level with Logos 6 today.