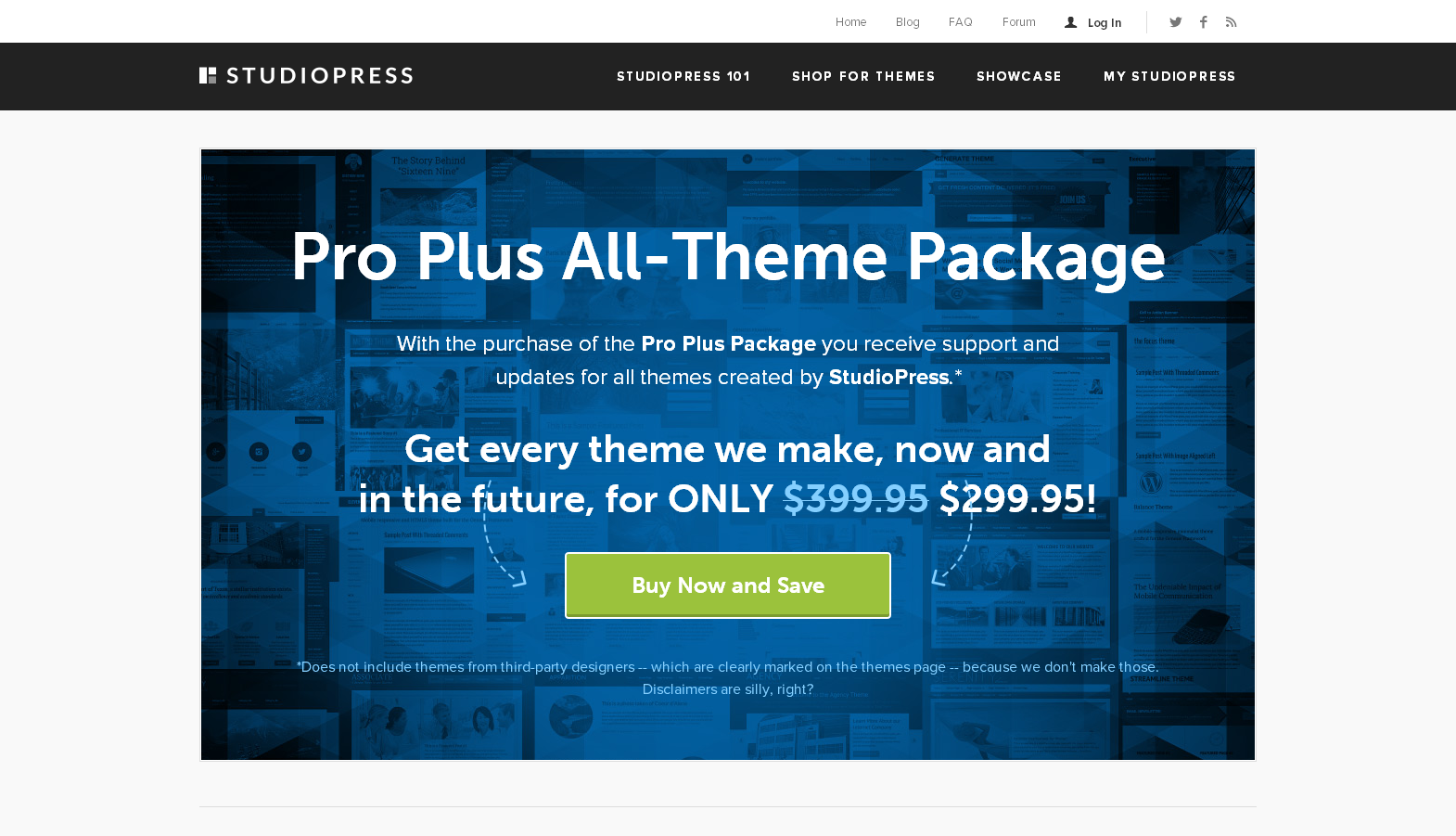 I don't often recommend products or services on this blog, but I recently learned of a sale that is going on which is too good to not recommend. It is the pre-Black Friday Sale at StudioPress for their Pro-Plus All Theme Package. It might seem a bit expensive at $299, but this is over $1000 off the full price of this package. Of course, you can most often get this package for $399, so this pre-black Friday sale is for an additional $100 of that already-low price.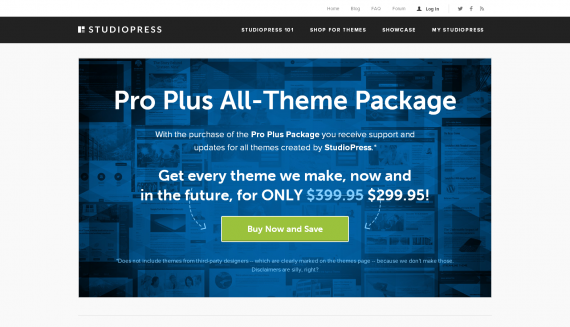 When you purchase this pro package, you not only get the Genesis 2.0 framework (the industry-leading WordPress framework), but you also get all 50+ WordPress Themes that they make, plus every theme that they create in the future, plus great tech support, access to their forums, free lifetime upgrades, and a whole host of other features. I have written previously about why I use Genesis 2.0 on this blog.
I Recommend StudioPress
I wrote last week that I wish more bloggers were honest about some of their blogging habits, and I want to be fully open about my own practices. So by way of full disclosure, I am using affiliate links in this blog post for the StudioPress Theme Package. However, I never use affiliate links for products or services that I do not use myself or that I do not highly recommend.
In fact, the affiliate program at StudioPress is one small reason I recommend them. Though $299 might seem expensive, you can make this back simply by referring three customers to StudioPress.
But that is not the real reason I use StudioPress. I don't actually run this blog to make money. I run this blog to write about Scripture and theology, and to interact with other people around the world who have similar ideas about knowing God, following Jesus, and loving others. But here's the thing… StudioPress is helping me do that as well!
Here is how:
I credit the new Genesis 2.0 framework by StudioPress with helping me get a lot of the search engine traffic that I receive. Due to their use of Schema.org markup, my search engine results appear more often and with better details than many other search results on Google and Bing, and so as a result, I get more clicks than other bloggers who write on similar topics. The Genesis Framework drastically helped decrease my site loading time as well. I wrote about this here previously. All of this creates a better experience for you, the reader, and better results on the search engines, which in turn leads to more readers.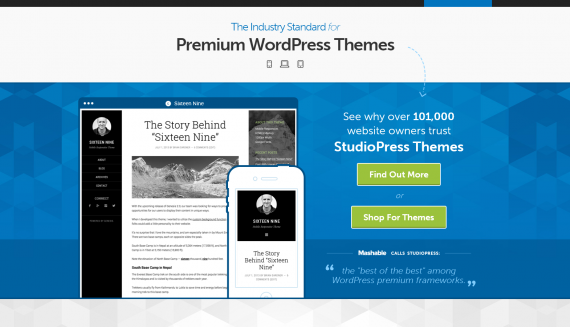 Anyway, I am not saying you have to buy this WordPress Professional theme package from StudioPress to be a successful blogger. You don't.
But if you are looking for a set of professional WordPress themes which:
Makes your site load faster,
Helps your articles appear more often on Google and Bing,
Is built by a company which will (most likely) be around for years to come,
Offers great customer service and tech support (for free),
Provides free upgrades for life,
then the Genesis 2.0 Framework by StudioPress is what you are looking for.
The StudioPress Sale Ends on Monday
There are, of course, cheaper ways to get started with Genesis 2.0. You don't have to buy the entire Pro Plus All-Theme Package. You can buy individual themes for less. But if you have been eyeing the Pro Plus All-Theme package, then now is the time to buy, since it is on a great sale.
The sale ends Monday, November 18.
If you have any other questions about the Genesis 2.0 Framework and StudioPress, let me know in the comments below and I will do what I can to answer them.