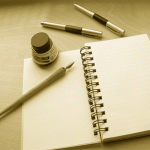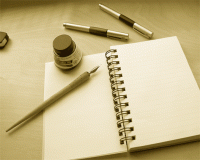 If you write a blog, you really should consider writing an eBook. Andrew Jones talks about Kindle Singles, and how blog writers should start converting their books into this new format that the traditional publishing industry has generally overlooked.
Also, publishing your blog as an eBook allows book readers to interact with the author, which is something most readers want to do. Do you have a question about something the author said? Go to his blog and ask him! It's genius.
I recently read Keep Your Greek by Constantine Campbell, and I found the format refreshing and simple. Why? Because it follows a blog post format. This makes sense, because before this was a book, it was a series of blog posts. The chapters are short, and are broken up into 300-500 word divisions.
At the end of the chapter, he includes comments from his blog.
I love that if I have a question about a chapter in his book, I can go to his blog, and ask him. Yes, I can interact with the author himself. That is awesome.
This becomes even easier with ebooks as you can actually include links in your ebooks back to your blog posts. Double awesome.
Do you want to write books? Start by writing a blog. Do you already have a blog, and you want to write books? Get some practice by converting your blog posts into eBooks. More on that later this week.