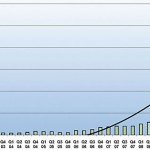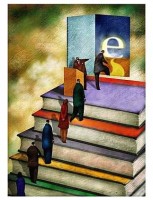 eBook publishing will never fully replace paper book publishing, but over the next decade or so, we will see eBooks gain a much larger percentage of the total books bought and sold around the world.
Check out the following statistics from the Association of American Publishers:
U.S. publishers had net sales of $23.9 billion in 2009, down from $24.3 billion in 2008, representing a 1.8% decrease.
Adult Hardbound books showed healthy growth of 6.9%, $2.6 billion in 2009. Paperbound books for adult fell 5.2% to $2.2 billion.
Hardbound books in the children and young adult category fell 5.0% to $1.7 billion while their paperbound equivalent grew 2.2% to $1.5 billion.
Mass Market paperbacks decreased 4.0%.
Audio book sales for 2009 totaled $192 million, down 12.9%.
E-books sales reached $313 million in 2009, up 176.6% (Source).
Religious book sales dropped 9.0% to $659m in 2009.
Almost every category of publishing is down, except for eBook publishing, which was up 176%! In 2010, eBook sales totaled $441.3 million. This site only tracks 14 publishers, so eBook sales may actually be twice as high. The LA Times says that total eBook sales were $966 million, and will top $3 billion by the middle of the decade. Amazon reported last year that they are selling nearly twice as many eBooks as Dead Tree Books (or DTB – paper books).
If you want to learn about eBook publishing, now is the time.
In the next post, we will look at five of the benefits of eBooks and eBook publishing.