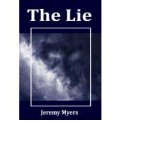 No, I am not lying about a free book offer. I really do have a free book to offer you, and it's called The Lie.
Read on for more details.
First, a bit about the book. I should begin by saying it's not really a full length book. It's a short story. It's only 5000 words. Also, it is not a DTB…a Dead Tree Book. This means it is not printed on paper. It's an ebook.
I believe that electronic publishing is the best and easiest way for authors to break into print. It's easier and cheaper than self-publishing, and will soon dominate and revolutionize the publishing industry. What iTunes did for the music industry, and YouTube did to the television industry, ebooks will do for the publishing industry.
I wanted to learn the ropes of this process, and so started with something small and simple – a short story. The title of the story is The Lie.
Here are the opening paragraphs:
I couldn't believe what I was hearing. Yet there was the President, on the television screen, finally revealing the truth that had been hidden for so many years.

"We are not alone in the universe."

"Tell us something we don't know," I muttered. At this time yesterday, only lunatics, fringe cults, and mad scientists believed in aliens. Aliens were for movies, not for real life. But today, all that changed. Nobody actually saw any aliens, but what else could have done it? Oh sure, some of the religious nuts were saying it was God, that the rapture had finally occurred. But if it was the rapture, when God comes and takes all his followers to heaven, why were so many of the religious people still here? Many of them were wondering the same thing. So it clearly wasn't God. And now, the president was confirming what we all knew.

Aliens had kidnapped about one-sixth of mankind. One billion people. Poof. Gone. Disappeared off the plant. It was a mass alien abduction, and the world was in chaos. Some were whispering that these people had been "harvested," that they had been taken away for testing. But nobody knew for sure what had happened.

Now nearly the entire world listened as the President continued to explain what had happened…
In case you couldn't tell, the book is science fiction… with an emphasis on the fiction. But it raises the question, if/when the rapture happens, what explanation will the world governments provide?
If you want to read the rest, the book is available on Amazon Prime.
 This means that if you are part of Amazon Prime
 you can read it for free, even if you don't own a Kindle. If you are not part of Amazon Prime, you can still purchase the ebook for a measly $0.99.
---