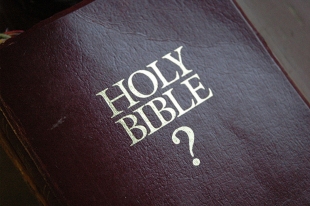 Yesterday, I asked why we need the doctrine of inerrancy. I also asked that even if we had a text today which was  100% accurate to what was originally written, would this be of any help to us at all?
I say no. It wouldn't.
Why not?
Because the primary issue when it comes to the Bible is not so much what was written, but rather, what it means. And even if we knew for certain what was written, this still would not help us understand what it means.
The Bible is 99.9% Accurate. So what?
Look at it this way: Scholars like to say that although errors crept in to the manuscripts through the copying process, most of the manuscripts we have today are in 99.9% agreement with each other, and therefore, are mostly in 99.9% agreement with what was originally written. Furthermore, these same scholars go on to tell us that the 0.1% of discrepancies do not effect any major teaching or doctrine of the church.
Fine. So this means that all Christians, and all churches, and all theologians are in 99.9% agreement with each other on the major teachings and doctrines of the church?
Not even close. We have theological disagreements on everything in the Bible, from creation in Genesis 1 to the everlasting kingdom in Revelation 22. Not even "major" doctrines like the Trinity, the deity of Jesus, or eternal life by faith alone in Jesus have universal agreement.
Why do We Need Inerrancy?
So if we cannot agree on what the Bible says, why does it matter so much for people to know what the Bible said "when it was originally written"? Why is inerrancy so important to so many people?
I'll tell you why. It is because of the theological disagreements themselves.
In a theological disagreement, people need a way to discredit their opponent, and by far the most widely used tactic throughout church history (including today) is to accuse a theological opponent of not believing in the inerrancy of Scripture. It is often phrased a little different (e.g., "He doesn't believe in the entire Word of God!"), but this is the general idea.
Since I mentioned it above, take Genesis 1 as a practical example. Genesis 1 talks about God creating everything in just six days. With the rise of the theory of evolution, some Christians have proposed different ways of reading Genesis 1 that help it fit with the teachings of evolution. But those who hold to these alternate ways of reading Genesis 1 are often discredited by six-day creationists for believing that the Bible has errors.
But those who hold to one of these alternate ways of reading Scripture don't necessarily believe the Bible has errors; they just have a different way of reading and understanding the text.
We'll look at this more tomorrow.
---