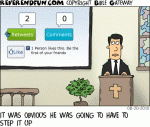 What does Jesus want you to do more than anything else?
Share this post on Facebook of course. Or Tweet about it.
Better yet, do both!
I'm kidding!!!
I like when people share my stuff on Facebook and Twitter, but that's not why I write.
I write:
To learn what I think (I learn by organizing my thoughts through writing)
To learn from you (through the comments)
To pass on to other learners what I have learned from other teachers (2 Timothy 2:2)
For me, these three things are are how I measure "success."
Thanks for reading this blog and for all you have taught me over the years!