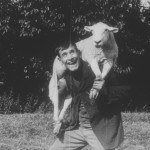 From house churches to mega churches, almost all churches steal sheep.
For some groups, this is the primary method of numerical growth: "Oh, you don't like your church? You should come to mine!" Studies have shown that over 80% of church growth in the United States is nothing more than people transferring from one church to another. One church's growth is often another church's decline.
But is transfer growth all bad? Is sheep stealing always wrong? I'm not so sure. Here are some of my thoughts on the subject. Add yours in the comment section below.
1. Sheep stealing shouldn't be your goal.
Reaching unchurched people should be the goal. I agree with Ed Stetzer when he says, "Many churches in North America have 'called the righteous' with better teaching and more programs. Advertising claims of 'programs for the whole family,' 'quality Bible teaching,' and 'full-featured choirs' seem designed to attract members from other churches. But Jesus claimed that he had come to call outcasts rather than the righteous. Like Jesus, the planter must seek the unchurched" (Planting Missional Churches, 43).
2. Jesus and Paul were the original sheep stealers.
Both of these men spent every Sabbath in the local synagogue teaching. I am not sure that either Jesus or Paul intended Jewish people to leave the synagogue, but many of them did leave—or were kicked out—after believing the message and Jesus or Paul preached. These people who left often became followers of Jesus or formed churches in their local communities. So make of it what you will, but Jesus and Paul stole sheep.
3. Beware! Some sheep are actually wolves!
While initially an influx of people into your church from another church seems like a blessing, it often turns into a curse, especially if they left in anger or as a result of a major disagreement with the pastor or elders of the previous church. It will generally not take long for this group to also find fault with you and your church, and start to cause problems in your congregation as well.
This is not always true of people who come from other churches, but if they frequently speak negatively about the former church or pastor, or if they arrive saying they want to help you and your church move in the direction God wants, these are good indications that you will face problems from these people down the road.
4. Many sheep need to hear and understand the Gospel.
However, there are many people in churches who do not understand or believe the Gospel. In fact, since Christianity is the "American religion" it could be argued that many people go to church for reasons other than that they are followers of Jesus Christ. Sometimes the only way church people hear and believe the Gospel is by leaving their current church.
In such cases, a church that soundly teaches the Gospel is not sheep stealing, but is engaging in the evangelism of church people. Of course, the big problem here is that one church's Gospel is another church's heresy. Just look at the debates between Catholics and Protestants, Calvinists and Arminians, or Lordship Salvation and Free Grace. In the battles between such groups, it is often the people in the pews who lose out the most. They become hurt, confused, bitter, and disillusioned. Therefore, a church must always be careful to disagree with others in a way that is gracious and tactful.
5. Sheep go where the grass is greenest.
Christianity today is woefully ignorant of Scripture. If there are sheep in another pasture who are starved and thirsty, and they see green grass and cool water across the street, who can complain if they go? Christians, whether they realize it or not, long to hear the Word of God faithfully and accurately taught. If your group offers such nourishment, Christians from other churches will start coming. Are you going to turn them away and tell them to go back to their parched pastures and withered grass? Probably not. As one pastor said, "We don't steal sheep. We just grow the grass."
Even here, however, we must be careful. Just because people are coming to your church does mean you offering green grass. And just because people leave your church to go across town does not mean you were not offering it. There are lots of places today that appear to be offering green grass, but on closer inspection, only have Astroturf. How to know which you are providing is difficult to discern.
6. Conclusion: Cross-breeding is healthy.
Ultimately, I think that when people move around from church to church, we can see it not so much as a bad thing, but as a good thing, even when they leave our church and go somewhere else. Christians need to be challenged in different ways, taught different ideas, and see church done in different ways. Such cross-breeding of ideas and methods helps develop unity within the church. No church should be so arrogant as to think that they can provide the total and complete package for what believers needs to fully grow and develop as followers of Jesus Christ.
So when people come to your church from another church, welcome them with an open hand, knowing that they bring some blessings and some baggage. And when people leave your church to go to another church across town, thank them for what they contributed to the church while they were there, and trust God to lead them to the next step He has for them.
Only in this way can we focus on caring for the people in our fellowship right now, rather than worrying about who left or how to attract others. After all, we're all in this together—at least, I think we are—and each of us have a role to play in building one another up as the Body of Christ.