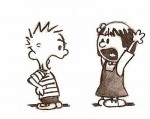 This is a guest post by Sam Riviera. He spends most of his time and energy caring for others in his community so that through his life and actions they might see Jesus. In fact, have you ever wanted to dance with Jesus? Last Easter, Sam showed us how: Dancing with Jesus.
If you would like to write a guest post for this blog, check out the guidelines here.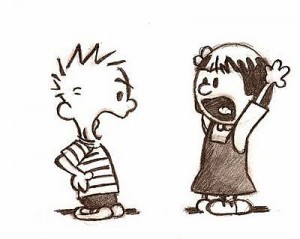 "If  you think this passage means that, you're in real trouble, serious trouble!"  a man in our Bible study group screamed at me.
Everyone present understood that he meant: I was headed for hell if I did not agree with his interpretation of the passage.
"I have  read about the passage we'll be studying in several commentaries, and some of them see this as I do," I replied.
"Well then, you're all in trouble!" he yelled.
The man in question was an executive at a major company.  Hundreds of people reported to him.  He expected his employees to do what he told them.  Most of all, he expected them to agree with everything he said.
He seemed to carry this attitude over into our Bible study. His almost weekly outbursts in our Bible study group appeared to be designed to make everyone afraid to disagree with him.
Does Arguing Scripture Convince Anyone?
If I believed that arguing Scripture convinced people of its truthfulness, then I would argue Scripture.  However, I refuse to argue Scripture with anyone for at least twelve reasons:
I have yet to meet anyone who claims to have been convinced that what the Bible says is true, or who claims to have been convinced about the correctness of a particular interpretation of any Biblical passage by someone who wanted to argue those points.
Even if the person arguing is more or less correct in what they're saying, they rarely, if ever, convince anyone of what they're saying.  People I know are of the opinion that the person arguing is really trying to prove that they're right and everyone else is wrong.
I was never convinced about anything regarding Scripture by anyone who wanted to argue.  The Spirit convinced me of what I believe about the Bible.
If I believe what the Bible says, then living by what it says is a much better witness to its truth than any argument.
My understanding of many passages in the Bible, and to some extent of the entire Bible, has changed over the years, and continues to change.   Maybe I'm totally off base on whatever I might be tempted to argue about today.  A few years from now I may realize how wrong I was.
Arguing Scripture seems like a huge waste of time.  Instead of arguing Scripture perhaps I should do something useful like paint the guest bathroom.
Arguing Scripture reminds me of making a sales presentation, of doing whatever it takes to convince the listener to "buy," whether it's a used car or what I'm saying about the Bible.
Who am I to convince anyone about anything concerning the Bible?  Only the Spirit can do that.  The most I can really do is say "This is what I believe and why I believe it."
Trying to argue Scripture with anyone seems to assume that my knowledge of what we're arguing about is superior to their knowledge.  It may imply to the other person that I think I'm superior to them not only in knowledge, but also as a person.
Arguing Scripture tends to focus on me and on the person I'm arguing with rather than on Jesus.
Arguing Scripture with someone can result in turning them away from not only Scripture, but also from The Word itself, Jesus.
Arguing Scripture does not help me love my neighbor.  Answering my neighbor's questions about Scripture and discussing Scripture with them, on the other hand, can be opportunities to love them.
Do we always need to be correct about what Scripture says? 
How can we "show" someone the truth of Scripture rather than "tell" them?
---