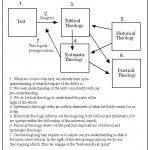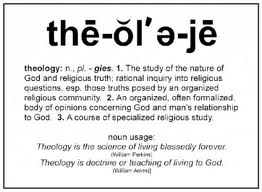 Check out these definitions of theology, all of which I found in one place or another in my class notes:
The most basic definition is "The study (logos) of God (theos)."
The most common definition of theology is "faith seeking understanding."
The broadest definition is "One's attempt to comprehend his or her religious beliefs."
Here is what Lewis Sperry Chafer wrote:
Systematic Theology is the collecting, scientifically arranging comparing, exhibiting, and defending of all facts from any and every source concerning God and His works.
Charles Hodge said this:
Theology is the science of the facts of divine revelation so far as those facts concern the nature of God and our relation to Him, as His creatures, as sinners, and as the subjects of redemption.
And we cannot forget Millard Erickson:
Theology is that discipline which strives to give a coherent statement of the doctrines of the Christian faith, based primarily upon the Scriptures, placed in the context of culture in general, worded in a contemporary idiom, and related to issues of life.
Doesn't theology sound great?!
Here's one that is a little condescending, but which I think was meant as a joke: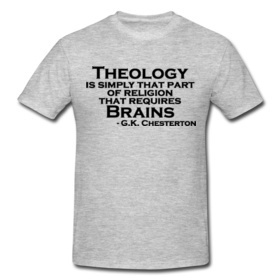 I love G. K. Chesterton! He can even bring humor to dry and dusty definitions of theology.
It's not that these definitions are wrong. They aren't. And it's not that theology is boring. It really isn't.
It is just that all these definitions seem to miss the whole purpose of theology. Maybe you don't need to include the purpose of theology within the definition of theology, but it seems that by leaving the purpose out of the definitions, the process of doing theology becomes more important than actually accomplishing what theology is supposed to do.
And what is that? The goal of theology is to draw us closer to God and each other in love.
But since when does theology accomplish love? Theology is notoriously divisive. If we can even argue about the definition of theology, it's no wonder that theology itself become one big argument. When the definitions of theology only includes goals (as noble as they are) of knowing the truth and being right, then the critical element of love gets left out of the equation.
Maybe if we started over and included love in our definitions of theology, we could avoid some of the divisions later on.
I sometimes think the determining factor for whether you have "correct" theology is not how many degrees you earn, how many books you publish, or how many Bible verses you reference, but rather, how does what you believe flow out of you in love toward others?
If what you believe does not lead you to love, then I would argue that what you believe is wrong.
So can we come up with a definition of theology that is simple for all to understand and includes the goal of love?
Here is my attempt:
Theology is learning about God in a way that causes us to love as He loves.
What do you think?