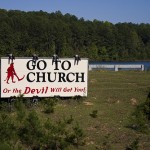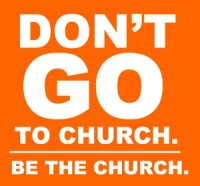 Many seem to think that our top responsibility regarding church is attending one. If you have ever stopped attending church for a short period of time, even for a week or two, you know what I mean. You will get calls from concerned friends and family, because they didn't see you "in church," even if they saw you at the football game on Friday night. You may even get a letter from the pastor letting you know you were missed, reiterating the necessity of attending church for our spiritual well-being.
This emphasis on church attendance has resulted in two troubling tendencies. First, there are those who believe that if they attend church on Sunday morning, they have fulfilled what God wants. In one church I pastored, I asked a talented and gifted lady to consider helping out for a weekday community outreach we had planned. She had faithfully attended the church for a few years, but never came to any activity beyond Sunday morning. Her answer floored me. She said, "Pastor, I come to church every Sunday. I am there on time, I sit and sing the songs. I listen to the sermon. I tithe. Thank you for asking me to help with this outreach, but I believe that when I walk out those doors on Sunday morning, I have completed my religious duty for the week." This belief is more widespread then we might imagine. But such a mentality is largely due to the frequent reminders by the pastor and other church staff that church attendance is critical for following Jesus.
And such constant reminders also lead to the other extreme, where people become addicted to attending church. For some, church attendance is an idol whereby they measure the spiritual maturity of themselves and others. If church attendance is critical for following Jesus, then logically, the more you attend church, the better follower you are. So they attend Sunday morning, Sunday night, the Wednesday prayer meeting, the Thursday night cell group, and the Saturday morning men's breakfast.
Both kinds of church goers—those who fulfill their weekly duty by attending the Sunday morning service, and those who gorge themselves on a weekly smorgasbord of services, Bible studies, and prayer meetings—have the same problem. They both suffer from attendance dependence. They both depend on church attendance to keep them spiritually healthy and as an indication that they are healthy. They both think that attending church fulfills their responsibility to God, to the pastor, to each other, and to the lost and dying world.
So what do you think? What is the solution? Maybe I've overstated the case. is this even a problem?
Note: This post comes from Close Your Church for Good, chap. 4, Sec. 5.