I began these three posts on the gospel by saying that "You don't have to believe the entire gospel to receive eternal life."
Hopefully after reading the previous two posts (Gospel 1 and Gospel 2), you can see why my statement is true.
If the gospel is Jesus Christ and all truth is related to Him, then it is impossible to believe the entire gospel. The most we can do is believe certain truths of the gospel. When we say we "believe the gospel" or "believe in Jesus" this is a shorthand way of saying that we believe certain truths of the gospel. Since each person is at a different place in their theological development and their walk with God, it is likely that each person believes a different set of gospel truths.
In fact, it is quite likely that there are billions of people on earth today who believe certain truths of the gospel, and yet have not received eternal life.
Why not?
Because they haven't yet believed the part of the gospel which pertains to eternal life, namely, that eternal life is given to those who believe in Jesus for it (John 3:16; 5:24; 6:47).
One gospel truth is that we are sinners. And most people believe this truth. But nowhere does Scripture say that believing we are sinners results in receiving eternal life.
So also with the birth, life, death, and resurrection of Jesus. Countless millions of people believe that about 2000 years ago, there was a man named Jesus who lived in Israel, preached sermons, performed miracles, was crucified on a cross, was buried, and rose again three days later from the dead. But — are you ready for this? — although these truths are extremely central to the gospel, nowhere does Scripture say that those who believe these things have received eternal life.


Many of those who believe these wonderful truths about the gospel, have not yet believed in Jesus for eternal life, but are instead, believing in themselves, their good works, their "being a good person", their religious activity in a particular church, or a whole variety of others human ideas about how to receive eternal life.
It is one of the greatest tragedies of church history that millions of people can believe hundreds and maybe even thousands of gospel truths, but not believe the one truth which is found at the very heart of the gospel, which is that God gives eternal life to anybody and everybody who simply and only believes in Jesus Christ for it.
Though one does not need to believe the entire gospel to receive eternal life (and nobody can believe all of it anyway), one of the central truths at the heart of the gospel which must be believed is the truth about God's absolutely free offer of eternal life through Jesus Christ.
Eternal life is by grace alone, through faith alone, in Jesus Christ alone.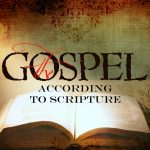 Want to learn more about the gospel? Take my new course, "The Gospel According to Scripture."
The entire course is free for those who join my online Discipleship group here on RedeemingGod.com. I can't wait to see you inside the course!