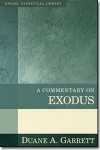 If you are tired of reading commentaries on Exodus that seem to do nothing but talk about the Documentary Hypothesis (aka the JEDP theory), and if you have sometimes found yourself yelling at the pages "I don't care if was the J, E, D, or P source, just tell me what the text means!!!", then the new commentary on Exodus by Duane Garrett is for you.
I knew this commentary would be good when he wrote this about the JEDP theory:
Much of this discussion is of doubtful value, either in terms of gaining better tools for interpreting the text or in terms of finding criteria for dividing it into its supposed sources. It maintains only a shell of intellectual coherence (p. 17; cf. p 18).
This is a scholarly and gracious way of saying "The JEDP debate is BS."
And the commentary only got better from there.
I loved his insistence on an early date for the composition of Exodus. He doesn't side with the "scholarly consensus" that Exodus was written during the post-exilic era.
Following in the same vein, Garrett actually believes that Moses wrote Exodus! While I often benefit from commentaries that were written by source-critical scholars, I find it so refreshing to read a commentary written by a world-class scholar who actually believes Moses wrote Exodus during the time period in which the events took place.
Speaking of which, Garret actually believes the events of Exodus took place. Again, in today's scholarly circles, this is a very rare position to take! But I love it.

Best of all, Garrett writes his commentary much as he says the book of Exodus was written: "the vocabulary consists primarily of common words" (p. 21). Garrett writes to be understood; not be prove how smart he is. Again, it is so refreshing to read commentaries of this sort.
As I read through the introductory material, I found his discussion of Pharaoh Akhenaten's conversion to monotheism to be absolutely riveting, as well as his thorough and detailed summary of the date of the exodus and the location of the Red Sea crossing. But then, I'm a bit of a Bible geek.
As for the commentary on the book of Exodus itself, it was top-notch. Most of the questions I had about Exodus were given adequate space for discussion. He talked about how the ten Plagues may have been designed to prove the powelessness of the Egyptian pantheon (though he ended up saying that this was not the point, p. 301).
He also wrote a good discussion of "Theodicy in Exodus" which is an attempt to explain how God could get Himself involved in the questionable behavior of killing children in the 10th plague (p. 214; I was not fully satisfied with his explanation on this).  And of course, in light of a recent study of mine, I was glad to see that he wrote several pages about the hardening of Pharaoh's heart (p. 370).
One great element to this commentary is that each section concludes with some helpful "Key Theological Points." This allows the commentary to not just be an explanation of the text, but also to show the student of Exodus how the text guides and informs our theology.
If you are preaching through Exodus or studying it on your own, this commentary on Exodus by Duane Garrett is definitely one you show consult.