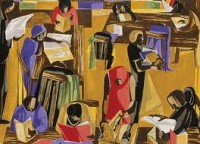 In light of my recent series on the the inspiration and inerrancy of Scripture, someone wondered if I had read The Bible Made Impossible
 by Christian Smith.
I had not heard of the book, and so obtained a copy. What a fantastic book! Either Christian Smith has been reading my notes, or I have been reading his. This book will go onto my Burning Books list.
The Problem of Biblicism
In Part 1, Smith spends four chapters talking about the problems of "biblicism." Biblicism consists of the constellation of beliefs and practices surrounding the way most Christians in the United States view and use the Bible. Among other concepts, biblicism contains the ideas of the Bible as the inspired Word of God, the inerrancy of Scripture, the ability of anyone to read and understand Scripture, the inductive method of Bible study to find the universal truth within Scripture, and above all, the idea that the Bible contains all the truth we need for Christian belief and practice.
Christian Smith shows convincingly that the goals and claims of biblicism have not worked, and so it is an impossible way of viewing and reading Scripture. It has great ideas and goals, but it just doesn't work.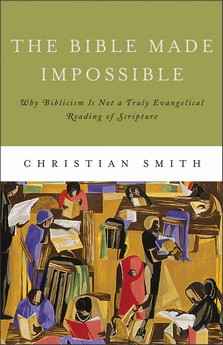 His primary evidence for this is the wide diversity in opinions on all theological and practical matters among those who hold to biblicism. The claim is often made that we agree on the major issues, and only disagree on the minor. But this is demonstrably false, as Christian Smith shows. There is almost no agreement on any single issue.
The goals of biblicism have failed, and so biblicism as a way of approaching Scripture is false.
The Way to Read Scripture
In Part 2, Christians Smith goes on to provide three suggestions for helping us view, read, and study the Bible in a way that allows for the complexity of Scripture while maintaining its authoritative role in our lives.
Two of his best points was that we must read everything in Scripture as pointing to Jesus Christ, that the complexity and ambiguity of Scripture must be accepted and embraced. About both of these points, Smith writes that
All Scripture is not clear, not does it need to be. But the real matter of Scripture is clear… that God in Christ has come to earth, lived, taught, healed, died, and risen to new life, so that we too can rise to life in him. On that, the Bible is clear.
I believe that in time, this will become the prominent view of Scripture. It is becoming increasingly obvious to more and more people that the way we have viewed and used Scripture for the past 500 years is severely deficient. But what Scripture does provide, it provides amazingly well, if we can learn to read it properly.
Scripture is not clear on how we continue the work of Jesus in our life, or what it will look like, but that is where the ambiguity, flexibility, freedom, and creativity of Scripture come in.
If you want to be challenged about how you read the Bible, and how to use it, I highly recommend The Bible Made Impossible
.
FTC Disclaimer: This book was sent to me for review by Brazos Press.
---