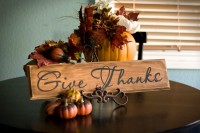 Happy Thanksgiving!
As you enjoy time with family, eating lots of food, watching football, playing games, or whatever it is you do on Thanksgiving, remember to focus on what today is really about: giving thanks to God for all His blessings He showers upon us.
To help you do that, I want to direct you to one of my other websites: Scripture On.com, specifically, the page on Thanksgiving. If you want a few verses or devotional insights to encourage you about Thanksgiving, you might find some of the Scriptures on this page helpful.
One of my joys in life is studying and teaching Scripture, and while I have Grace Commentary.com for this, it requires too much study to write regular posts. So last week I launched Scripture On.com where I could write daily insights from Scripture on various topics and Bible passages. As I add more content, it will not only serve as a place for you to find Scriptures on these various topics, but I will also try to write daily posts which could serve as a daily devotional for you and your family.
So this week, I focused on Thanksgiving. Here is an excerpt from the post on Psalm 107:1:
When you feel like you have been abandoned in the wilderness, or have been exiled to a foreign land, read through this Psalm and give thanks to God for the ways He has delivered you in the past.

If you are facing tough decisions in life, read through this Psalm, asking Him for wisdom and discernment, remembering that He has provided direction for you in the past.

If life's storms are howling about you, throwing the full force of their winds against you, remember that God has delivered you from storms in the past, and will calm this storm as well.

When you are in need of food and daily sustenance, trust God to provide for your needs as He has done in the past.

And when rich and the powerful people oppress and enslave, remember that God is on the side of the poor.

Give thanks to God, for He is good. His mercy endures forever!
Head on over to Scripture On.com to read the others.