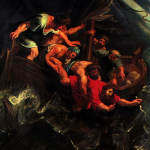 After Jonah teaches some terrible theology the sailors, we see in Jonah 1:13-16 how the sailors respond. In the process, the author of Jonah clearly contrasts the behavior of the sailors with the behavior of Jonah. As we consider this contrast, we will also learn why some non-Christians today are better Christians than some Christians.
The Text of Jonah 1:13-16
Nevertheless the men rowed hard to return to land, but they could not, for the sea continued to grow more tempestuous against them. Therefore they cried out to the Lord and said, "We pray, O Lord, please do not let us perish for this man's life, and do not charge us with innocent blood; for You, O Lord, have done as it pleased You." So they picked up Jonah and threw him into the sea, and the sea ceased from its raging. Then the men feared the Lord exceedingly, and offered a sacrifice to the Lord and took vows.
In this discussion of Jonah 1:13-16 we look at:
Why it is important that the sailors tried to return to the shore
What the sailors meant when they asked not to be found guilty of innocent blood
Why the sailors prayed, offered sacrifices, and made vows to God
How the book contrasts the sailors with Jonah
Resources:
Buy Nothing But the Blood of Jesus on Amazon
Downloadable Podcast Resources
Those who are part of my online discipleship group may download the MP3 audio file for this podcast and view the podcast transcript below.
You must
join a discipleship group
or
login
to download the MP3 and view the transcript.
Do you like learning about the Bible online?
Do you like learning about Scripture and theology through my podcast? If so, then you will also love my online courses. They all have MP3 audio downloads, PDF transcripts, quizzes, and a comment section for questions and interaction with other students.
If you want to deepen your relationship with God and better understand Scripture, take one (or all) of these courses. They are great for personal study or for a small group Bible study.
You can see the list of available courses here, and if you join the Discipleship group, you can take all the courses at no additional cost. Go here to learn more and join now.