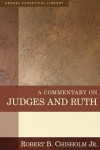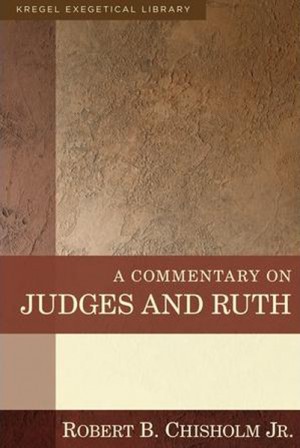 Kregel Publications recently sent me Robert Chisholm's A Commentary on Judges and Ruth to read and review on this blog. Robert Chisholm is a professor at Dallas Theological Seminary, though I never had the privilege of sitting under him in any of my classes when I was there. After reading his commentary on Judges and Ruth, I really regret not being able to take any classes with him.
Though I probably have not read more than five commentaries on Judges and Ruth, I can safely say that this commentary is one of the better volumes available for Judges and Ruth. Combining top-notch exegetical skill, a clear and compelling writing style, and deep pastoral insights, Robert Chisholm has provided a commentary on Judges and Ruth which should be part of any Bible student or Pastor's library who plans to teach or preach on the books of Judges and Ruth.
Not only does Robert Chisholm explain the biblical text in a way that makes sense and reveals the cultural, historical, and grammatical contexts of Judges and Ruth, he also deals with modern questions that the text address, such as the issues of female leadership, the consequences of spiritual compromise, and the often bewildering actions of God in relation to His people on earth.
I say "bewildering" because the author of the book of Judges seems conflicted about how to understand God's apparent behavior toward His people. Sometimes in the book, sinners, idolaters, and murderers live long and healthy lives, apparently with God's blessing, while at other times, one little mess-up causes God's wrath to fall upon whole generations of people. The author of Judges tries to explain these events, but such explanations often fail. Then there are the times that God uses enemy nations to punish Israel, and others times that God uses enemy nations to deliver Israel (e.g., Shamgar and Jael). You can almost hear the author of Judges trying to make sense of this.
Then, although punishment often seems to follow idolatry and compromise, deliverance sometimes seems to come out of nowhere. The people have not repented, they have not returned to God, but God delivers them anyway. Again, the author seems to be asking why sin can lead to punishment, but restoration does not seem to require repentance. These sorts of dilemmas are everywhere in the book. Chisholm brings out these apparent inconsistencies, but does little to resolve them.
And that is my main criticism of this book. Never once, that I could found, does Chisholm challenge the apparent violence of God in the book of Judges. He says that the violence is "harsh" and "punitive" (p. 58) but says it is necessary to protect the Lord's reputation. Really? What reputation? It seems that God's violence toward others, and God's violence toward his own people by others does an awful lot to damage His own reputation. But that is an interpretive and theological issue that is a current pet project of mine, so I will leave it alone.
Aside from that one criticism, there are numerous other strengths to this commentary. I like how Chisholm provided good preaching tips for how to teach Judges and Ruth, and also provided a list of recommended commentaries. Overall, this is a fantastic commentary on Judges and Ruth, and everyone who teaches or preaches through these books should have a copy in their library. You can get it from Amazon by clicking here.