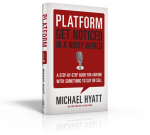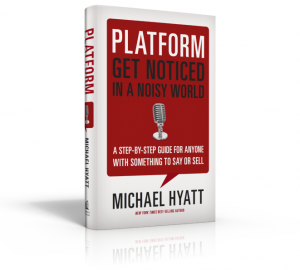 Michael Hyatt, one of the top bloggers in the world and Chairman of Thomas Nelson Publishers, has just released an amazing new book for anyone with something to say or sell. It's called Platform: Get Noticed in a Noisy World
To be successful in the market today, you must possess two strategic assets: a compelling product and a meaningful platform. It has never been easier, less expensive, or more possible than right now to build your platform and Michael Hyatt will show you how.
Platform
 offers a step-by-step guide with proven strategies, practical tips and easy-to-replicate formulas. Whether you are an author, pastor, public speaker, entrepreneur, musician, or small business owner… developing your platform is critical for your success.
Bonuses include: Platform Video Jumpstart Program (six sessions), How to Write a Winning Book Proposal (two e-books and two audio sessions), Why NOW is the Best Time Ever to Be an Author (hour-long video), Digital Versions of Platform
 (audio and eBook), and more!
I have read many other books on developing your platform, and most of them focus on developing interpersonal relationship with your friends, neighbors, and coworkers, so that you can market yourself or sell your product. This is all vitally important, but most of these books had only a chapter or two on developing your online platform. At most, they have a chapter or two about having a website. In the digital age, this is just not going to cut it.
It seems that many people approach their website and online presence in the same way Kevin Costner approached baseball in his movie, "Field of Dreams." We think, "If you build it, they will come." So we build our website, and nobody shows up.
Michael Hyatt speaks from experience in this. When he was the CEO of Thomas Nelson Publishers, they went gangbusters on building websites for every book and author, only to find that nobody ever visited all these thousands of pages. Something more was needed than just a website.
Now, after eight years of blogging and turning his blog into one of the most widely read and commented-upon websites in the world today, he shares with us all of his tips and tricks that he learned over the years.
The great thing about developing your platform online is that it is open to everyone. The things that Michael shares can be done by anyone with a little bit of creativity and discipline. You no longer have to be a politician, a TV personality, or a megachurch pastor in order to gain a following and land a book deal.
You just have to develop your online platform.
And in this book, Michael Hyatt tells you how.
The best thing about the book is how he shows that there are no magic bullets or secret handshakes to developing your platform success. Most of what he writes about in the book you can learn on the internet by scouring websites and performing endless searches on Google. But why waste time and spend countless hours sifting through thousands of potentially pointless blog posts when Michael Hyatt has done all the work for you, and written each chapter in concise, bite-size pieces which can be easily understood and implemented right away?
Save yourself time and headache. Buy this Book, and begin building your online platform today.
---