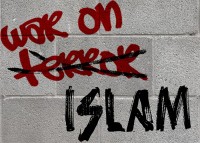 Even though we modern, civilized Christians typically do not kill and murder those with whom we disagree, there is an area of our lives today where we still put others to death for the sake of our religion. We still do kill others over theology.
I am thinking more about the Jihad that Christians have declared upon Muslims.
"No, No! It is they who have declared Jihad upon America!"
Well, Jihad means "Holy War." It is a war which has a just and righteous cause. It is a war that God not only tells you to fight, but also fights for your cause and your side.
And many Christians do believe these things about American's wars. We don't call it Jihad, but we do call it a "Just War," a war with a righteous cause, a war in which God fights on our side.
There is really not that much difference between "Jihad" and "Just War."
It is as Sam from GraceGround likes to say, killing others in the name of God, "doesn't look like Jesus." Do we really imagine that God goes out with us to kill other people? Do we really imagine that He helps our bullets fly accurately, and our bombs drop in the right spot to bring a bloody end to the lives of others?
To ask the question is to answer it.
Don't misunderstand. I'm not a pacifist.
I do think that national leaders have the responsibility to defend and protect the nation and its citizens against threats. I think the United States should do everything it can to protect all of us who live here against the sort of thing that happened on 9-11.
What I am opposed to, however, is how the politicians of our country so easily gained the support of the vast majority of Christian churches for this war. Many churches thirsted for the blood of Saddam Hussein, Osama bin Laden, and others. When the churches got involved, what began as a "War on Terror" quickly became a "War on Muslim Extremists," and has now pretty much degenerated into a "War on Islam."
Church billboards went from signs that said, "God Bless America," to "God Bless our Troops," to things like "God will judge our enemies, but we'll arrange the meeting."
I don't think that God rejoiced when Saddam or Osama died. Or Quadaffi.
Do I think that these men were upright, outstanding citizens of the world? Of course not. I just think that followers of Jesus should not be calling for the death of anyone.
It is the right of nations and governments to go to war and execute criminals, but Christians should always be pleading and seeking for a middle ground between Pacifism and Just War (For an excellent proposal on how this works, I highly recommend Walter Wink's book, Engaging the Powers
. For a taste of that book, see this article on the Third Way: Between Pacifism and Just War).
Churches should not sit back and let the criminals of the world (or our own country) walk all over us, our families, and our freedoms, but nor should we teach that the killing and murder of others is the best way out. There is nothing holy about a Holy War.
---