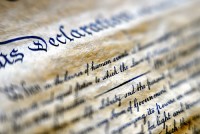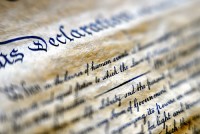 I love this country. I love the ideas expressed in our foundational documents like the the Declaration of Independence and the Constitution. I am proud to be a citizen of the United States of America. I love the fact that I live and work here, and that my children can grow up in what is arguably one of the best countries in the world.  I love what our nation stands for and much of the history which has brought our nation to where it is.
Sure, there are some things that sadden me about our history, and there are some things in our current situation I would like to see changed. But in general, I think the United States has a noble history of trying to do what is right and best.
However, it sometimes seems that the values expressed by our government as found within the Declaration of Independence and Constitutional Bill of Rights, sometimes conflicts with the values of Jesus and the Kingdom of Heaven as found within the pages of Scripture. When Christians become aware of these conflicts, we must choose between them, and try, to the best of our ability, to remember with the apostle Paul, who was himself a citizen of Rome, that first and foremost, we are citizens of heaven.
This is where our true loyalties must lie.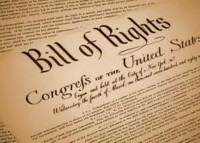 But I fear that more and more, churches are sacrificing the Gospel on the altar of our Constitutional rights. This is usually not intentional, but is based on an attempt to defend and protect Christianity as we know it. We believe it is essential for the church to gather in a building on Sunday morning, and are quick to sue any government official who seems to block or restrict our right to assemble. We feel that we should be able to say whatever we want from the pulpit and in our church publications, no matter how offensive it might be to others, because we have the freedom of speech.
Even many sermons and Sunday school programs focus on the themes of our right to life, liberty, and the pursuit of happiness, which are not exactly found in Scripture but instead are products of the European Enlightenment. It was Thomas Hobbes, the author of Leviathan,
who taught that since everybody desires life, liberty, and happiness, these goals must therefore be inherent to our nature. To deny them would be to deny our very nature as humans.
There are numerous problems with such an idea, not least among them that Scripture and the example of Jesus seem to disagree, but it is not uncommon to hear sermons about living our best life now, full of freedom and liberty, and how to have a happy life, happy wife, happy kids, and happy job.
Where are the Gospel themes of self-sacrifice, service, humiliation, and death in all of this? It is utterly and totally absent.
Fighting for our rights may not be the best way to live as a follower of Jesus.
---