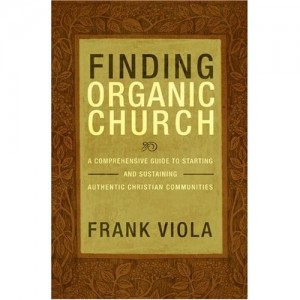 Finding Organic Church by Frank Viola is probably about the closest a book will ever come to providing a "how to" for simple, organic, house church gatherings. This is both its genius and its downfall.
As millions of people across the country and around the world leave the institutional church—you know, the one with the buildings, paid pastoral staff, and weekly schedule of church services and Bible studies—they often don't know what to do with themselves after leaving. Viola's book, Finding Organic Church, is a good guide to help them find or develop a community of like-minded people with whom they can live and worship.
While I haven't read everything on the subject, I know of no other book like it on the market, and it really helped answer some of my own questions and provide me some direction as I seek to follow Jesus by loving and serving others in my community. The book provided a fairly clear picture of Viola's experience with the organic church and the Scriptural basis for this model.
I think the book is a good starting place for anyone like myself who has left the Institutional Church and is trying to answer the question, "What next?"
However, while I don't disagree with the biblical evidence Viola presents, it seemed to me that he was presenting this evidence as a timeless and universal model for all churches everywhere to copy. Frank Viola has 21 more years of experience than I do in planting organic churches, and so I may be wrong, but I am just not sure that the approach he presents will take root and flourish in all situations and with all people.
Is "Organic Church" the Only Way?
For example, despite his insistence that what he does is different than what goes on in an Institutional Church, he still describes a group of people who sit in chairs arranged in a square, sing some songs from a book, and talk about spiritual things. Sure, there is more dialogue than in a typical church, and it sounds more free-flowing, but it is still too "churchy" for most of the people I know here in the Northeast who want nothing to do with "church." One look at this setup, and they would be out the door, never to return. Of course, he would probably argue that this gathering is not for them. It is for followers of Jesus. But even there, I know many people around here who love Jesus, pray, and read their Bibles, but want nothing to do with church, and what Viola describes would still be too "churchy" for them.
Are Apostles Necessary Today?
One other area where I had misgiving is in his insistence on absolute necessity for an apostolic worker to point the organic church in the right direction. Again, I do not deny the biblical evidence he presents, or his own 21 years of experience. It is just that we have something which every single person we read about in the New Testament did not have—namely, the New Testament.
The primary reason apostles were so important in the early church is because they did not have an accurate account of the life of Jesus which they were to follow, or reliable examples of what other local churches were doing, or precise guidance from teachers on how to live and apply the life of Jesus to their lives in their cultures. We have all of this today in the New Testament.
I believe that if a person, or a group of people, want to follow Jesus into their community, and look to the Scriptures for guidance, and trust the Holy Spirit to lead them, then they will be the church. And I think ultimately, Frank Viola would agree with this. The itinerant worker is often necessary to help a group of people understand the Scriptures a little better, or grant them freedom from some of the traditions and baggage or the past, or provide some helpful guidance about grace, forgiveness, and love.
I am glad I read the book. It is a helpful guide for answering some of the questions about the "how" and "why" of organic church life. But in the end, that's all it is: a guide. It does not answer every question, nor do the answers apply to every situation and context around the world. But if you are looking for some thoughtful ideas or a boost to get your community moving in the right direction, there may be no better book currently available than Finding Organic Church. I thank Frank Viola for writing this book, and his others in the series.
---