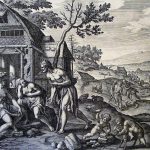 What event is at the foundation of all human society and civilization? We see what the answer is as we look at Genesis 4:16-26.
It is important to understand what forms the foundation of society and civilization because doing so helps us understand our own lives, and also what is going on all around us all the time in current events and culture.
The Text of Genesis 4:16-26
Then Cain went out from the presence of the Lord and dwelt in the land of Nod on the east of Eden. And Cain knew his wife, and she conceived and bore Enoch. And he built a city, and called the name of the city after the name of his son—Enoch. To Enoch was born Irad; and Irad begot Mehujael, and Mehujael begot Methushael, and Methushael begot Lamech.
Then Lamech took for himself two wives: the name of one was Adah, and the name of the second was Zillah. And Adah bore Jabal. He was the father of those who dwell in tents and have livestock. His brother's name was Jubal. He was the father of all those who play the harp and flute. And as for Zillah, she also bore Tubal-Cain, an instructor of every craftsman in bronze and iron. And the sister of Tubal-Cain was Naamah.
Then Lamech said to his wives:
"Adah and Zillah, hear my voice;
Wives of Lamech, listen to my speech!
For I have killed a man for wounding me,
Even a young man for hurting me.
If Cain shall be avenged sevenfold,
Then Lamech seventy-sevenfold."
And Adam knew his wife again, and she bore a son and named him Seth, "For God has appointed another seed for me instead of Abel, whom Cain killed." And as for Seth, to him also a son was born; and he named him Enosh. Then men began to call on the name of the Lord.
In this discussion of Genesis 4:16-26 we look at:
What Genesis 4 reveals about the human problem of sin
How rivalry and scapegoating form the foundation of human civilization and culture
How rivalry and violence escalate out of control
The fact that God is the ultimate scapegoat for human violence
The origin of religion
Resources:
Downloadable Podcast Resources
Those who are part of my online discipleship group may download the MP3 audio file for this podcast and view the podcast transcript below.
You must
join a discipleship group
or
login
to download the MP3 and view the transcript.
Do you like learning about the Bible online?
Do you like learning about Scripture and theology through my podcast? If so, then you will also love my online courses. They all have MP3 audio downloads, PDF transcripts, quizzes, and a comment section for questions and interaction with other students.
If you want to deepen your relationship with God and better understand Scripture, take one (or all) of these courses. They are great for personal study or for a small group Bible study.
You can see the list of available courses here, and if you join the Discipleship group, you can take all the courses at no additional cost. Go here to learn more and join now.