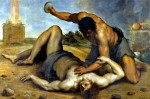 Yesterday we discussed why Cain attempted to make an offering to God in the first place. God had not yet commanded sacrifices and offerings, so why did Cain give one to God? In today's post, we look at the question about why God rejected Cain's sacrifice but accepted Abel's.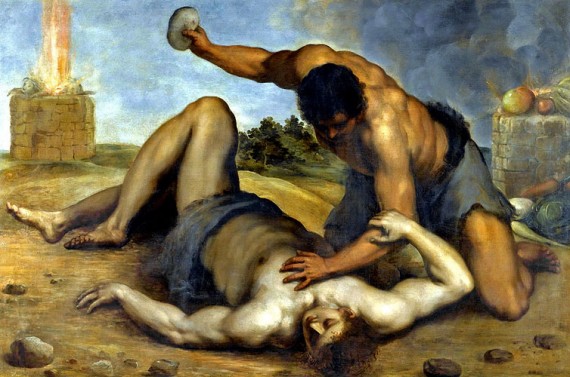 Various Explanations for why God Rejected Cain's Sacrifice
Some argue that the problem was with Cain's offering itself.
God wants blood, we are told, and Cain brought only fruit. Only death atones for sin. Yet nothing is said anywhere in the text about this being a sin offering. And besides, later in the Pentateuch when Moses gives instructions to the Israelites about the sacrificial system, fruit and grain offerings are said to be acceptable to God.
Others take this a step further and point that Abel brought the firstfruits from his flock (whether we understand this to mean the firstborn lamb or the first batch of milk) whereas Cain brought the last portion of his harvest.
But once again, this is not something which is explicitly stated in the text. Since the flood had not yet occurred, it is unlikely that there were seasons, and so fruit would have been produced all year long.
Finally, some argue that it wasn't fruit from the last harvest of the year (for there was no such thing), but rather, the fruit of the ground, that is, fruit that had fallen off the tree and was lying on the ground, and therefore, not the best part of the harvest.
But again, this explanation is nowhere in the text, and must be read into what is there.
So why then did God accept Abel's offering but not Cain's?
God seems to explain why right in the text.
He tells Cain that if he does well, he will be accepted (Genesis 4:7).
We saw yesterday that Cain was trying to give God's fruit back to Him. God is telling Cain now that acceptance is not dependent upon giving God His fruit back.
The problem with Cain, it appears, was that he was trying to please and appease God by giving God what he thought God wanted, namely, fruit. Cain was apparently trying to manipulate God by giving God back His fruit so that God would allowing Cain and his family back into the Garden of Eden.
By offering fruit to God, Cain was trying to the savior of his family.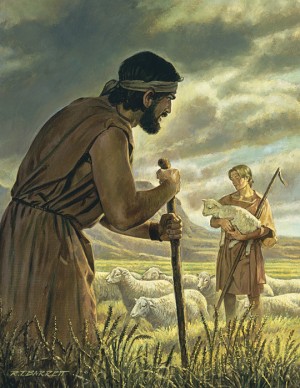 God gently rebukes Cain and tells him he is already accepted and loved, that nothing is required. All God wants is for Cain to live well, to do what is right. If he doesn't do what is right, rather than being the savior of his family, Cain will fall into the same trap that his parents had fallen into, and will become prey to sin. In fact, God warns Cain that sin is already crouching at Cain's door, seeking to devour him.
The problem with Cain's offering wasn't with what Cain offered. The problem was with Cain's heart in the offering.
Why then does God accept Abel's offering?
The text simply doesn't say. But it seems likely that if Cain's offering was not accepted because he was trying to please and appease God through an offering of fruit, then maybe Abel's offering was accepted because he had no ulterior motive. He was simply following his older brother's example.
He saw Cain give fruit, and though, "Oh, is this how we thank God for what He has provided? Okay. I will give something too."
For Abel, the offering of the firstfruits of his flock (which was probably the first batch of milk) was an act of worship to God and a way of saying "Thank you." He had no desire to control or manipulate God into doing something for him or for his family. This seems to be how his offering differed from Cain's, and therefore, why his offering was accepted while Cain's was not (cf. Heb 11:4).
And of course, we all know how the story ends. Cain, the one who wanted to save his family from their sins, ends up taking his family deeper into sin by becoming the first murderer of the human race. Despite God's warning about sin seeking to rule over Cain, Cain becomes jealous of his brother Abel, and murders him (Genesis 4:8).
The Sacrificial System in the Bible
Genesis 4 nevertheless begins to lay the groundwork for why the sacrificial system developed and what God thought about it.
Nevertheless, when people give gifts, God is pleased to accept them if they are given with the right motive and intention. He does not want humans to give offerings in an attempt to manipulate or control Him into doing what humans want, or as a way of getting back into God's good graces.
As God told Cain, we are already accepted. We don't need to do anything, other than live our life the way God desires. This is what God wants.
Of course, if we do end up giving something to God out of love and thanks to God for what He has given us, God is fine with accepting it, not because He needs or wants it, but because He recognizes such offerings as the acts of worship that they are.