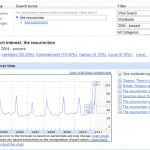 I am a Guest Blogger on ProBlogger.net today.
The post explain how Google Insights for Search can help you write better posts, plan blog post series, and write your posts using good SEO keywords. Head on over there to check it out and make a comment.
Real World Example
For any of you coming from ProBlogger.net, I also want to provide you with an example of how this worked on my blog last week.
My blog is focused on writing about Bible and Theology. While doing some SEO keyword research recently, I noticed that every year in mid-April, search terms related to "the resurrection" skyrocket. Why? Because of Easter. Here is the Google Insights for Search screen which shows this: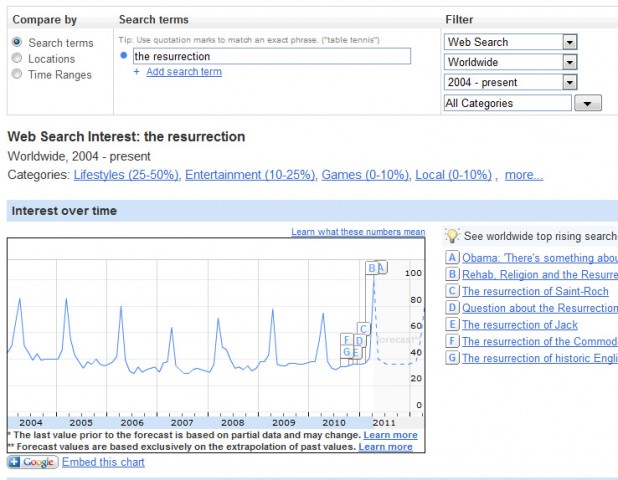 Of course, a little common sense could have predicted this rise in search terms every April, but Google Insights for Search showed me exactly which terms people were searching for.
So, I did a whole series of posts last week focusing on these search terms. You can see the Introductory Post here for all the posts in the series: Death and Resurrection of Jesus
What happened to my blog stats last week? Check it out for yourself:

As you can see, my total Pageviews per day almost doubled from my average. Visits also doubled:

You might not see such a dramatic increase if you have a blog with a large readership, but by focusing on a few keywords and phrases that people are actively looking for, all blogs can see an increase in both Visits and Pageviews.
As for me, the challenge now is turning those visitors into regular readers and subscribers. How? Well, as many posts on ProBlogger.net explain, two ways of doing this is by writing quality content and having a clear call to action. I think I've got quality content, but why don't you Subscribe and let me know?