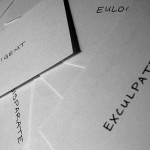 Uh…what?
Yes, that's what many people think when they attend church and hear pastors using Greek, Hebrew, theological terminology, and other Christian jargon. I'm not against such things, but big words do not help others understand you, nor do they help others want to follow Jesus. People are most drawn to followers of Jesus who can talk about normal things in normal ways.
And besides, I somewhat suspect that most of the people who use big words don't know what the heck they're talking about either. They think the big words will mask their ignorance. As an example, I recently heard a woman talk about her "self-defecating humor." Unless she was into extreme forms of bathroom humor, I think what she meant was "self-depreciating."
If you can't say it so a fourth-grader understands you, you probably don't understand it yourself. When you use big words, nobody is impressed.
Oh, and about the title:
Homiletics is the art and technique of preaching.
Hermeneutics is the art and science of Bible Study.
Sesquipedalians are people who like to use big words.
So the title basically means "Preaching and Bible Study methods for people who like to use big words."
…But that's so boring. My original title was better. Maybe big words aren't so bad after all…