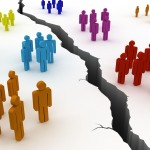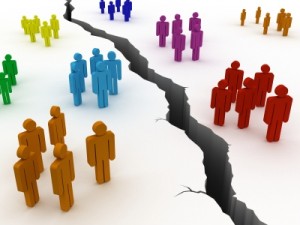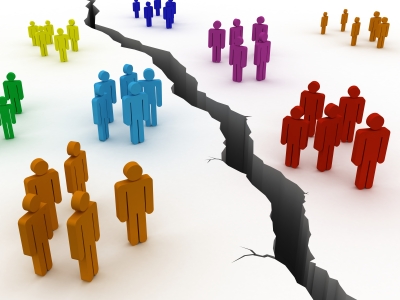 Have you ever noticed that one of the main things we Christians are good at is arguing with each other? If there is one thing we are unified in, it is our love for fighting. Sometimes it seems we can argue over almost anything, from the color of carpet to the length of hair, and have Bible verses to support our view.
If you disagree that is is the way we Christians are, let's argue about it!
Seriously, though. What has gone wrong with the church when love and unity are supposed to be our defining characteristics (John 13:33-35; 17:22)?  (There is my Bible verse to prove I am right.)
This post is part of a chain blog addressing this issue. Read below to see how you can participate.
In previous posts, Alan Knox raised the questions, and Arthur Sido proposed that divisions come when we place a desire to be right above the requirement to love one another.
I used to be quite divisive.
I remember belittling a member of my church named Dave who wanted more freedom and flexibility in the church service and asked why we needed to list the songs we were going to sing in the bulletin. I basically told him (though not in quite these words) that he was the new Christian and I was the trained pastor, and God Himself planned our lives before the foundations of the world, so we should follow God's example and plan our church services. He didn't argue with me again. He also left the church.
I remember sitting in a Bible study with Amy who debated with me over the meaning of the word "salvation." She disagreed with me that it had something to do with heaven, and when I told her she was wrong, she pulled out Strong's Concordance and went to dictionary in back where it said that the definition of salvation (Greek: soteria) was to rescue (physically or morally), or to deliver. Heaven was nowhere in the picture. I told her that Strong was a liberal scholar and didn't know what he was talking about. I proved my point, and she didn't come to another Bible study.
I remember telling Marge she had to get rid of all the computers in our back Sunday School room because even though she was using them to help people in the community gain job skills and write resumes, we needed that room for our thriving youth group of three teenagers. She wanted to keep the computers, and help the people who were looking for work, but I told her that since they didn't come to our church, we needed to look out for our youth group first. As it turned out, the youth group never showed up for youth functions anyway.
I remember a Sunday sermon which I now call "The Dead Plant Sermon" where I accused the church of being a dead plant that had withered up and died. Many people stopped attending after that, proving my point. It was not soon after that I had to find another church to pastor.
Now, twelve years later, I wish I could apologize to all these people. As it turns out, they were right, and I was wrong.
But I can't apologize to them, because I have long since lost their contact information.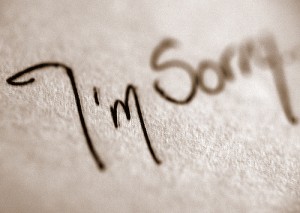 However, I can apologize to you.
As human beings, we are never going to agree on everything, never see eye to eye on every issue, never agree on where to draw the line. When these disagreement occur, we can divide over them, or learn to apologize. So….
I am sorry that I so often blindly argue my case, simply because I want to be right.
I am sorry that I let my prejudices and areas of ignorance pull so much weight in my thinking and writing.
I am sorry that we "spiritual leaders" use our education and knowledge to force our will and ideas upon you.
I am sorry that we, as pastors, priests, authors, bloggers, and Christians leaders have slandered you in public, on our blogs, and from our pulpits.
I am sorry that we accused you of being a heretic simply because you read the Bible differently than we did.
I am sorry that we condemned you for a sin which we ourselves were committing in secret.
I am sorry that we judged you as deserving of hell simply because you were different.
I am sorry for the pain we have caused, the wars we have started, and the people we have enslaved in the name of Christ.
I am sorry for using the Bible to defend the mistreatment of Native Americans, African Americans, Jews, and now Middle Easterners, when we should have used Scripture to expose the sin of such treatment.
I am sorry to women for our treatment of you as inferior partners in the Gospel.
I am sorry to homosexuals for our fear and hate.
I am sorry to the poor, the homeless, the addicts, the alcoholics, and the prostitutes for condemning you for your current situation or how you got there.
I am also sorry for my current arrogance and blind pride which keeps me from apologizing to the people I have hurt the most, or for how even a blog  post like this one might be hurtful to some.
Please forgive me. Please forgive us. We were wrong.
Are you dealing with division? Who do you need to apologize to?
---
Other participants in the chain blog:
My Post
"Chain Blog: Please agree with me" by Jon
"Division and our shared humanity" by Andy
"Chain Blog: solving the problem" by Bobby
"Divisiveness: Acts 2 & Ugly Carpet" by fallenpastor
"Stimulating our Collective Memory" by Trista
"No, we can't just get along" by Alan
"Who says we are divided?" by Jon
"Disunity and the mind of Christ" by Fred
Who will write the next "link" post in the chain?
Chain blog rules:
1) If you would like to write the next blog post (link) in this chain, leave a comment here stating that you would like to do so. If someone else has already requested to write the next link, then please wait for that blog post and leave a comment there requesting to write the following link.
2) Feel free to leave comments here and discuss items in this blog post without taking part in the actual "chain". Your comments and discussion are very important in this chain blog.
3) When you write a link in this chain, please reply in the comments of the previous post to let everyone know that your link is ready. Also, please try to keep an updated list of links in the chain at the bottom of your post, and please include these rules at the bottom of your post.
---