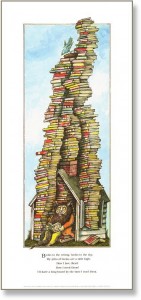 When I came down to Texas for Seminary three years ago, I brought 150 shelf-feet of books with me. In other words, my books took up 150 feet of bookshelf space.
I just added it all up again, and in three years, I have added over 60 feet of books! 20 feet a year! I am now up to over 210 feet of bookshelf space. Yes, I have an addiction.
Of course, having lots of books means nothing except that I've bought a lot of books. It's reading them that is the key! But I also have a reading addiction (which my wife shares also, and which we successfully passed on to our three girls), so I'm okay. Is that rationalizing?