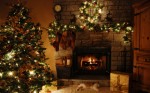 The sounds of Christmas, I believe, are a little bit of heaven on earth.
My wife, reading Christmas stories to our three daughters.
My girls, singing and dancing to Christmas carols.
Our cats, fighting with each other because they're tired of being cooped up inside.
The beep of my coffeemaker when a fresh pot has finished brewing.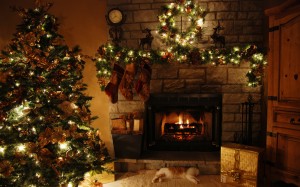 The faint whisper of snow falling on the trees when I go outside to see if our pipes have frozen.
The muffled whoosh of the vacuum as it cleans up powdered sugar after the girls made "goose poop" cookies (Russian Tea Cakes).
Christmas music playing nonstop as my wife decorates the windows with boughs of pine, ribbon, and lights.
The happy chatter of girls as they frost Christmas cookies  for the neighbors.
The crunch of ice underfoot as I walk to the mailbox to check for Christmas cards.
The knock of the UPS driver on the door when packages are delivered.
The girls practicing their lines and their songs for their self-written, self-directed Christmas Pageant.
The hand saw cutting through the stump of a Christmas tree before loading it on top of the van.
The tinkling of ornaments as they are hung on the tree.
The way my wife talks in a hushed voice as we sit on the couch at night and gaze at the lights on the tree.
The squeals of delight and laughter on Christmas morning as my daughters discover what Santa brought them in the night.
What sounds help you enjoy the Christmas season?
---
This post was part of the December Synchroblog, which focused on "Coming Home and the Season of Advent." Here is a list of other contributors this month: