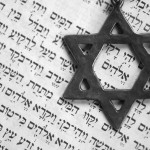 Some of my research time over the past two years has increasingly included talking about Scripture with some Chassidic Jewish friends. I can't tell you how much I've learned.
For example, the answer to age-old Christian question about what our responsibility is to the Law of Moses is quite simple. We are not required to obey the Law of Moses. Why? Because we're not Jewish. There's a whole history behind this answer, but it's that simple. Gentiles are to obey what is called the Seven Laws of Noah, and interestingly enough, a summarized version of these laws are provided to Christian Gentile converts in Acts 15:29.
And of course, just as with the Jewish laws, the Noahic laws are not to gain eternal life, but in order to live in right fellowship with God and with each other.
deuteroproto
Another area of Jewish background research has been my commmentary on the Gospel of Luke. I try to get as much Jewish background information in there as I can. Jesus was Jewish, after all. And so were the apostles and Paul.
I have spent the last four weeks reseaching the potential Jewish background on a very difficult word in Luke 6:1: deuteroproto (lit. "second-first). No, research and writing is not my full-time job, but I figure I spend about 10 hours a week or so in study. So this one word has consumed about 40 hours. Yikes.
But last night, I had a major breakthrough on it. I am super excited about what I discovered. So far, only my wife knows about it. She's my biggest cheerleader and my inspiration. Hopefully now that I've found a solution, I can get on with writing the next portion of the commentary, Luke 6:1-5. You will have to wait until that is finished to hear my discovery.
In researching this word, I had numerous discussions with my Jewish friends about my possible theories. They were extremely helpful.
Slippery Study
One thing I have found, however, is that discussing Jewish backgrounds with Chassidic Jews is a slippery endeavor. They only see things one way: their way (Just like all of us, I suppose.) They are the heirs of what we would call Pharisaical Judaism. Paul was a Pharisee, and Jesus probably was also. Or at least, in his thinking, theology, and practice, Jesus was closest to the Pharisees. He argues with them as one who is part of the group. He is not an outside critic.
But I have found that when I ask questions, I need to take what I hear with some discernment. For example, on one question I had about Passover (Jews call it Pesach), the Rabbi friend of mine answered the question and then said, "Every Jew everywhere throughout time has believed this way…"
I knew for a fact that the Sadducees and the Essenes did not, and that there were groups of Jews today who also have a different opinion. So I mentioned these groups and their views, and he said, "Oh, yes, well, they were not truly Jewish."
I laughed to myself, but realized that we "Christians" are the same way. If a person believes and behaves differently than we do, it's easier just to claim that they are not Christians than to admit that there might be something legitimate about their point of view.
What's the point of this post? I don't know. Study Jewish backgrounds. I'm still writing commentary. Something like that.
I guess I should just stop here.