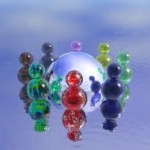 The experts say that one of the first steps in planting a church is forming a core group. I held my first "core group" meeting today, but I don't think this  core group is what the experts had in mind.
The core group consists of me, two "Christians" who don't go to church any more, one agnostic, two Rastafarians, and a Wiccan.
In any group there needs to be some things in common that hold them together, and that is true of us as well. Our desire is to read the four gospels so that we can discover what Jesus did in his life and try to do similar things in ours. The agnostic mentioned frequently today that he just wants to follow the example of Jesus. The Wiccan kept saying that Jesus was all about love, and he wants to love people like Jesus did.
In our meeting today we set some ground rules. Here they are with a brief explanation:
1. Jesus is the example we are trying to follow. Though lots of people have many different religious heroes and saintly forefathers, nearly all people of all religions agree that Jesus is, if nothing else, a good example to follow.
To keep us on track in following Jesus, we decided two more rules were necessary.
2. Doctrinal debates are not allowed. Individuals are allowed to state their own beliefs, but doctrinal debates will not be part of our meetings. As followers of Jesus, we do not want to be sidetracked by arguments about Him or disagreements about whether he really said this or actually did that. We felt that cutting off all debates before they even started was the only way that people of such diverse beliefs and backgrounds could accomplish our purpose together. To help us fulfill this guideline, we added a third:
3. To learn about Jesus, we will only go to the Bible.No other books will be brought into or discussed during our times together. This is isn't because we don't value other books, but because the Bible is probably the only "religious" book respected by nearly everybody. Nearly all religions claim the Bible as part of their "holy writings" but not all agree on texts like the Quran or the Book or Mormon. Even people who do not believe the Bible is true, or that it is divinely inspired can read the Bible and learn from it.
For now, that's it. We discussed a couple of other ideas, such as "no prayer" or "no offerings" but decided to leave that open for now. After all, what would we do when Jesus instructs us to pray or give if we had already decided not to pray or give?
Next week, we are going to begin reading one of the Gospels together (probably Matthew) and as we read about what Jesus taught or what Jesus did, we will have a discussion about it, and come up with a plan for how we as a group can do what he says or imitate what he does.
I'll keep you informed on how it goes. But for now, what do you think?