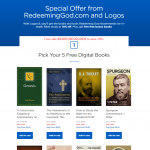 The New International Commentary on the Old Testament (NICOT) and New Testament (NICNT) is easily my favorite series of commentaries.
I own almost all of them in the hardback versions, but recently had the chance to fill out my set through Logos Bible Software. I chose the volumes on Job, Psalms, Matthew, John, and Hebrews.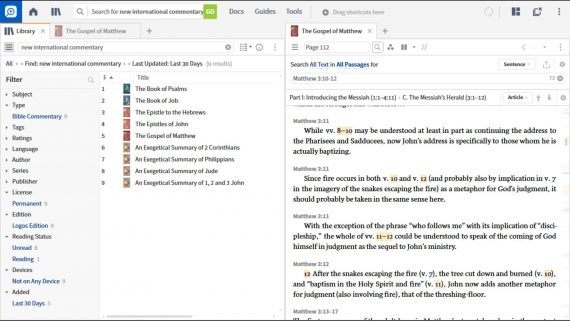 Logos is having a major sale on the sets, with the full collection (53 vols) at 48% off. You can can individual volumes for $29.99 or less.
If you don't have Logos Bible Software, you can use my code, REDEEMINGGOD8, to get 10% of your purchase, PLUS 5 free books.
Even though I have most of the NICNT and NICOT series on hardback, I love using Logos for these commentaries because I can search through the volumes much more quickly than with the paperback versions.
For example, R. T. France wrote the volume on Matthew, and since my book on hell is about to get published, I wanted to see what he wrote about the gehenna passages of Matthew. So I searched the volume for Gehenna, and found every place he wrote about it.
A quick read through of the texts reveals that R. T. France appears to be an annihilationist. That is, rather than the unbelieving dead spending eternity in suffering torment, he seems to believe that they will be burned away and will cease to exist.
You can read the quotes in the screenshot below (on the lower right):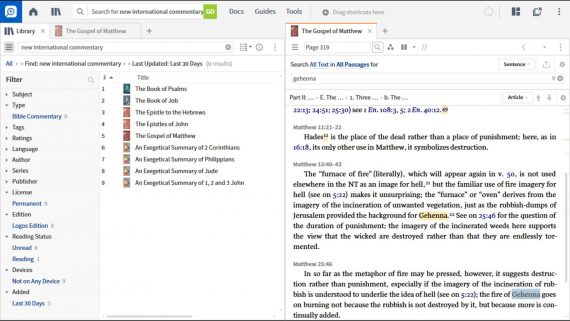 If I wanted to read more of the context in which he wrote these paragraphs, I can just click on the verse reference at the top of each paragraph, and the software takes me to the section of the book which it is from.
Then I wanted to do a quick search to get more information on Gehenna, so I right-clicked on the word "Gehenna" and selected "Bible Word Study" from the pop-up menu.
I was greeted with the following screen, from which I could select a wide variety of word study tools from the left.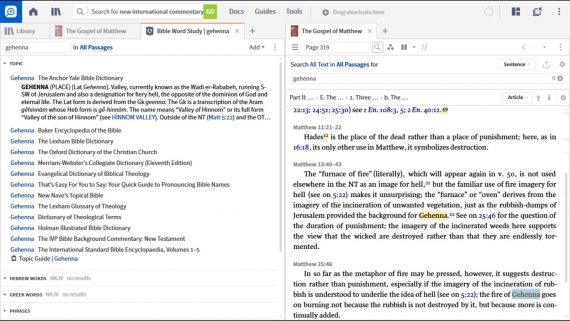 Then, when I performed another quick Bible Word Study on the word "hell," I could see all the other commentaries which spoke about gehenna as hell as well.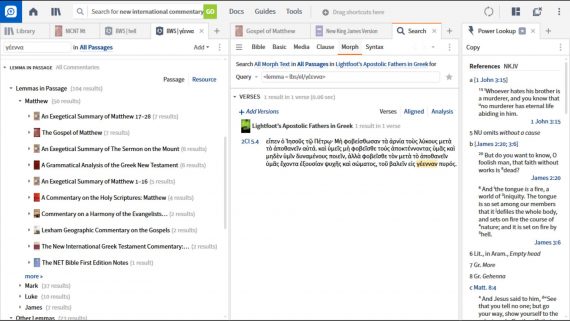 All of this took me less a minute. Try doing that with your hardback paper books… Do you see how quick and easy it is to use Logos Bible Software?
This is the power of Bible study and research in the 21st century.
I'm thrilled to have the missing volumes of my NICOT and NICNT sets in my software, and will make sure I use them on the commentaries I am currently writing for publication (Stay tuned!).
If you have Logos, take advantage of the huge sale happening right now. But only for another 10 days! The sale is over May 15, 2019. If you don't have Logos, then get a copy (using my code REDEEMINGGOD8 for 10% off) and then buy a few copies of the NICNT and NICOT set. You will be impressed by the software and these commentary volumes.