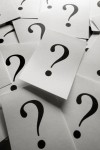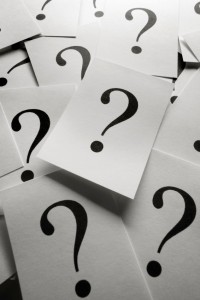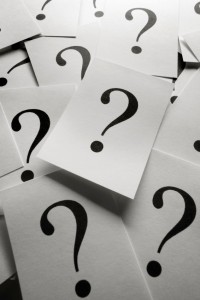 When it comes to church, the Bible teaches a lot more and a lot less than we think it does. The main things we think of as "church" may not be biblical at all, while the parts we disregard and neglect, may be the central truths to church.
To get at which is which, I suggest questioning the church. We must question everything. We must put the church up on the rack, and interrogate it. …Maybe that image goes too far, but you get the picture.
The three most simple questions are "Why? Where? What if?"
Ask "Why?" About Church
First, we have to ask why churches do what they do. Why do we meet on Sunday? Why do we have building? Why do we have sermons, and Sunday school, and music? Why?
A fun exercise is to take any one thing the church does, and ask "Why?" seven times. See what you come up with.
Ask "Where?" regarding Scriptures About the Church
If in asking "Why?" you ever answer, "Because the Bible says so" then you must bring out the second question, and ask "Where?"
Where does the Bible actually say what you think it says? Are you sure it says what you have always been taught?
If you do find a passage that seems to support the church practice in question, you need to do some serious Bible study to make sure it really says what you think it says, and you're not just using it as a proof text.
I recently talked with a man who says that all churches must have big, expensive, luxurious buildings because the Temple was big, expensive, and luxurious. Well, he's right about the temple, but is that really what God is saying to us today? Long hours of study are required to find out.
Another popular idea today is that "true" Christians must attend a church building on Sunday morning to truly be part of the church. Does the Bible really say this? Where? And don't try to quote Hebrews 10:25… it doesn't say what you think it does.
Ask "What if?" About Church
As we are asking the "Why?" and "Where?" questions, it is helpful to begin a list of "What if?" questions. Asking "What if?" helps us envision another way of being the church that will enable us to look, live, and love more like Jesus.
For example, if we asked "Why does the church meet on Sunday?" and found that there was really no good Biblical reason why, then we can ask, "What if the church met on another day of the week?" Of course, if you did find biblical justification for meeting on Sunday (as you might), you can still ask "What if we didn't meet on Sunday?"
If we asked, "Why do churches have buildings?" and realized there was not good Biblical requirement for church buildings, we can ask, "What if the church did not have a building?"
It is this final stage that you can begin to dream, and plan, and create a vision for what the church could be. This is where we plan, pray, and stay up until 3 am talking about how great things could be.
After asking all these questions, what will church look like in the end? Truthfully, there is no end. This process is never ending. We will always be reinventing, refining, recasting, revising. That's the fun of it.
What aspect of church have you questioned recently?