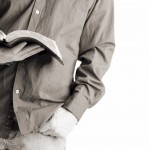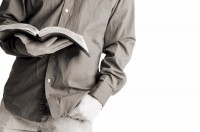 One key to reading Scripture  is to see yourself on its pages. Identify with the people, place yourself in their shoes, and ask, "What would I do in this situation? How would I feel?"
But don't just do this with the "good" people, like Jesus, Paul, and Moses. Put yourself into the shoes of the "bad" people also. In other words, don't see yourself as Jesus, going to help all the sinners, prostitutes, and tax collectors. Instead, see yourself as the sinner, the prostitute, and the tax collector.
Let me give you some examples from my own reading.
When I read Luke 5:27-32, I am not Jesus, calling Levi the tax-collector to follow me. I am Levi, a traitor to my own people, an outcast, a reject, and Jesus is calling me.
When I read John 4:1-26, I am not Jesus, offering living water to the woman at the well. I am the woman, who has had five husbands, and the man I am with now is not my husband, and Jesus is offering me the living water so I never have to thirst again. I'm not gay, but you understand the picture. We can all identify with searching for fulfillment and love in life.
When I read the Parable of the Prodigal Son, I see myself as both the sinful son who strayed, and the self-righteous son who stayed.
When I read of Jesus dying on the cross, I am both the thief who mocked Jesus, and the thief who asked for Him to remember me. I am John and Mary at the foot of the cross feeling deep grief and loss. I am the crowd watching the show. I am the soldiers, who nailed him to the cross.
It takes some imagination and creativity, but reading Scripture this way causes the pages to dance with life and color. Also, reading Scripture this way opens our eyes to the fact that we are poor, needy, sinful, broken people, and Jesus has come to us to cleanse us, wash us, purify us, love us, and make us whole. Only in this way do we gain the proper perspective to then go and help others who are also in need.
So what are you reading in the Bible today, and where do you see yourself on its pages?