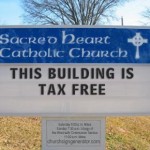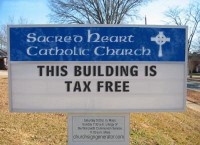 In the United States, churches do not have to pay property taxes. This is a great benefit to churches, especially when church budgets are tight.
But have you ever wondered why churches are given tax-exempt status? It has nothing to do with the separation of church and state. The reason churches are given tax-exempt status is the same reason that any other non-profit organization (whether religious or not) is given the same status: they engage in charitable work that benefits the community. The government wants to encourage people to be charitable, and so gives tax-exempt status to charitable organizations.
Therefore, if a church is not engaging in charitable service in the community, it is reasonable to ask them to surrender their tax-exempt status. Churches, like any charitable organization, should only get tax-excempt status if they can show where and how they are providing a service to the community.
"But," a church might say, "We cannot afford to do much in the community. We are barely paying our bills as it is."

I understand, but is this what you would tell the government if they stepped in and said "Start serving the community or start paying your taxes"? In such a situation, you would quickly find the resources to start serving your community in a tangible way. (By the way, we may soon have no choice in the matter. See this article here.)
And how much money should be budgeted for service to the community? The place to start, it seems, might be whatever the church would be paying in taxes if they were not tax-exempt.
So no, I am not really suggesting you revoke your tax-exempt status. You can, if you really want to, but in general, churches are better stewards of money than the government. I believe, however, that churches should act like they pay taxes, and then take that "tax money" and use it in tangible ways for the good of the community.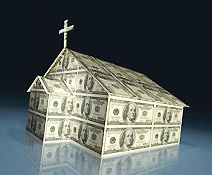 How much money would this be per year?
The national average for property taxes is about 3%. So if your church and property is worth $500,000, you would "tax" yourself $15,000 per year to pour back into the community.
Imagine what you could do in your community with $15,000! What needs do people petition the local government for, but which the county coffers cannot afford? Can the church help out? What would the city council say if you showed up with $10,000 to help renovate the school, fix that road, or clean that park? Why don't you go and find out?
If this idea caught on around the country, we could solve many problems around the world. It is estimated that the total value of church buildings and property in the United States is about $500 billion. If churches decided to tax themselves at 3% annually, this would create $15 billion per year that the church could use to help the people of our country and others around the world.
When you listen to politicians argue about whether the country can afford to cut just $4 billion out of the annual United States budget, it become mind boggling to realize that if churches would just tax ourselves, the church could be spending $15 billion per year on community service in our communities and elsewhere.
On a related note, it was reported in 1986 that churches around the country had a total annual income from tithes of over $100 billion. If churches taxed this donation income at a rate similar to the corporate tax rate (averaging about 20%), this could generate an additional $20 billion per year to use for the kingdom of God.
All of this is only to point out that the church has lots of money, and we should make careful, wise decisions about how we spend it.
So keep your tax-exempt status, but tax yourself what you would be paying if you were not tax-exempt, and then use that money in all the ways government would use it, but with the love of Jesus added in. In such a way, the world will be turned upside down.