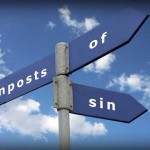 Close Your Church for Good. Chap 4, Sec 4. This section is actually based off a blog post I wrote a while back. It fit in nicely with the direction of this chapter, so I included it.
* * * * *
Modern Christians are not the only ones who met together in large groups to worship God, pray, sing songs, and listen to Scriptural teaching. God's people have been doing this for thousands of years. And God isn't necessarily opposed to it, unless it gets in the way of certain things that are nearest and dearest to the heart of God. What things?
If we take passages like Isaiah 1:12-13, Amos 4:4-5, Amos 5:21-24, Jeremiah 14:12, Hosea 6:6, and Micah 6:6-8 and put them together with modern terminology, we could say that the following is what God has to say about the church:
"Go to church and sin!
Attend Bible studies and multiply your sins!
Volunteer to clean the church.
Faithfully tithe your 10%.
Praise Jesus for all He has given you.
Thank God for your many blessings.
For these are the things, Oh Christian, you love to do,"
says the Lord God.
"I hate your pot lucks.
Nor do I delight in your Christian concerts.
Though you give generously to support the building fund,
And donate faithfully to the Christian organizations,
I will not even look at these many gifts.
"Cease your many sermons,
Stop writing your faithful blog.
Get out of your pew,
Put away all your Christian books.
"When you fast, I will not listen.
Though you cry out, I will not hear.
I will not accept your offerings
And sacrifices of praise.
"Take away from me the noise of your many songs,
Your numerous prayers are an abomination!
Quit playing the guitars, banging on the drums,
And raising your hands in praise.
Stop trampling the parking lots
In your eagerness to get to church.
"Sunday morning, Sunday night.
Wednesday evening, Friday morning.
I hate all your meetings.
I despise your numerous studies.
They are all evil in my sight.
"Instead, let justice roll down like a waterfall,
And righteousness like an ever-flowing stream.
I desire mercy, not sacrifice.
I want you do justice, love kindness,
And walk humbly with your God."
Does that sound harsh? It probably sounded so to the Israelites who heard God say such things about their temple worship, yearly festivals, frequent fasts, and sacrificial system, much of which He instituted! But notice. It is not that God doesn't desire such things; it is that they were supposed to lead to something else. The worship of God is supposed to result in justice, kindness, and the humble service of others. If our churches services are not accomplishing this (and preaching about such topics is not enough), we should cancel our services until we have our priorities straight.