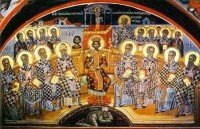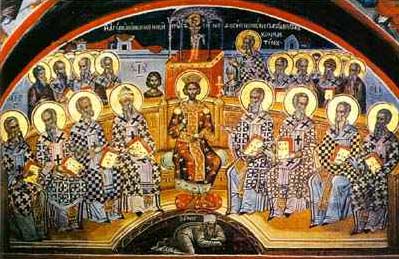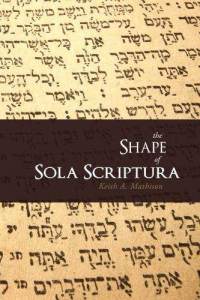 In a recent post, I suggested that nobody believes in Sola Scriptura.
In a comment, Tim Nichols from Full Contact Christianity challenged my definition of Sola Scriptura, as not being the same definition that was used by the classical Reformers when they talked about Sola Scriptura. 
I was intrigued, and so asked where I could read more about what he was saying. He recommended a book by Keith Mathison called The Shape of Sola Scriptura
. So I obtained the book and read it last week.
It turns out Tim was right. And so was I.
Let me rephrase that. I stated that Reformers like Luther, Calvin, and Zwingli "tried to reject tradition and return to the Sola Scriptura,'the Bible alone.'" This was the statement Tim Nichols objected to, and after reading the book by Mathison, I stand corrected.
Mathison argues fairly persuasively that when most people today talk about Sola Scriptura, what they really have in mind is Solo Scriptura. "Solo" Scriptura is the idea that we can learn all matters about faith and practice using the Bible alone, plus nothing else. If a group or person studies the Bible, and they think they have found some truth, doctrine, or practice in Scripture, then they should believe or practice this idea, whether or not it was ever believed or practiced previously in the history of the church. This is "Solo" Scriptura.

Sola Scriptura, on the other hand, as talked about by the Reformers, held to nothing of the sort. They believed that Scripture should be studied in conjunction with the rest of the community of the Saints, especially those Early Church Fathers who helped develop the Creeds of Nicaea and Chalcedon.
Keith Mathison defines Sola Scriptura this way:
The Scripture is to be interpreted by the Church within the hermeneutical context of the regula fidei or rule of faith. The rule of faith has found written expression in the ecumenical creeds of the Church. The Nicene Creed and the definition of Chalcedon are the creedal confessions of all orthodox Christians and serve as the doctrinal boundaries of orthodox Christianity (p. 337).
Mathison points out in his book that what most Christians believe today is not Sola Scriptura, but Solo Scriptura, and I think I agree with him. However, by definition, Solo Scriptura is an impossible belief. This is what I was trying to say in my previous post. Just to take one example. The simple fact that we have a canon of Scripture, which was compiled and organized by various early Church Fathers, and became a tradition, shows that we must, to some degree, accept and depend upon some forms of Church Tradition. There is no such thing as "Scripture Alone without any Church Tradition whatsoever."
Some tradition is necessary.
The question, however, is "Which tradition?"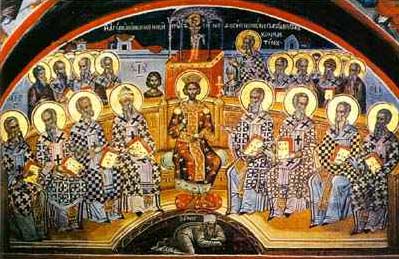 And it is here, I think, that Mathison's book failed to provide an adequate answer. In general, he suggested the creeds of Nicaea and Chalcedon. Frankly, I am a little skeptical of some of the elements in these creeds since they were developed after Christianity became the official state religion of the Roman Empire, and I fear that some of the statements of these creeds were politically motivated, and were heavily influenced by Roman Emperors, rather than by honestly dealing with the text of Scripture. Nevertheless, I do believe almost everything in these two statements, except for one minor little statement near the end of the Nicene Creed ("We acknowledge one baptism for the forgiveness of sins").
But beyond that, Mathison, who is a Reformed Calvinist, hints at various places that he also thinks that we should include the traditional decrees of the Four Councils of the Church, the Second Helvetic Confession (p. 137), and the Westminster Confession (p. 138). I am definitely not ready to accept these Creeds as hermeneutical boundaries for the interpretation and application of Scripture. Mathison might say that by such a refusal, I am placing myself as an individual above and against the Holy Spirit-guided consensus of the rest of the church, which therefore places me in the category of "heretic." But I, and millions of others, just cannot agree with some of the ideas and statements in some of these creeds.
I think Mathison recognizes this, which is why he usually only mentions the Nicene Creed and the Definition of Chalcedon. However, accepting these two statements does not come close to solving the problems that Mathison has raised on his book. For example, he talks about the heresies of "justification by faith alone" (p. 237), annihilationism, hyper-preterism (p. 242), Openness of God, and Religious Inclusivism (p. 281). But the Nicene Creed and the Definition of Chalcedon say nothing about these ideas, so even if we accepted them, they would not help us decide who was right and who was wrong in such theological debates.
So I think that Mathison has correctly diagnoses the problem, but he provided the wrong prescription. Or at least, it is an insufficient prescription. His solution might solve some of the extreme problems, and quiet some of the voices at the fringe who deny the Deity of Jesus, or the Trinity, but his solution will not help us with some of the other theological issues of our day.
Also, I am suspicious that Mathison ultimately wants people to agree to the Calvinistic Creeds. He certainly drew the line from the Church Fathers, through Augustine, to Luther and Calvin pretty clearly.
But Mathison is right that it is impossible (and unwise) to study the Bible all by itself, without reference to what others in the community of Christianity have learned and taught in our own day and throughout history. I think that Mathison has only uncovered a small part of the solution. Sure, we should study and receive guidance from those who have gone before us. But such teachings and creeds should not be the only guiding hermeneutical paradigm.
Rather, I think we should also look at the actions of those who went before us. The teachings of those who exhibit the most love, care, grace, mercy, and forgiveness for others should carry more weight than those who exhibit anger, malice, judgment, hatred, and greed. The actions resulting from a person's theology should help us decide which theology will hold the most weight in our consideration of their interpretation of Scripture.
---