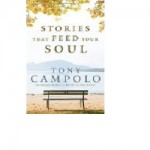 I love Tony Campolo. I first heard him speak at Life '92 in Boulder, CO along with Dave Busby.
It was there that I heard Tony tell the following story:
I don't know about you, but I want to be part of a church like that too.

I recently joined Viral Bloggers and saw that one of the books I could review was Stories that Feed your Soul by Tony Campolo. Since I remember Tony being such a masterful storyteller, and since I enjoy the insights he shares on his blog, I thought I would request the book so that I could read and review it.
If you love the "Chicken Soup for the Soul" book series, you will also love this book. Tony Campolo is a master story teller, and this book contains a collection of some of his best stories, arranged around the themes found in Romans 8. Pastors take note — if you are preaching through Romans 8, and need some good sermon illustrations, this book is all you need.
As for me, I really, really dislike the "Chicken Soup for the Soul" books, and so didn't care too much for this book either. Again, don't get me wrong. I love Tony Campolo. I love what he is doing, and I love a lot of what he teaches. I just don't like books filled with a bunch of stories (which is odd, because that's what the Bible is…but those are different types of stories). I know some books help encourage others, and I'm glad they do, but after I read one, I always feel like I just ate a bunch of cotton-candy. It was sweet in the mouth, but still left me hungry afterwards.
So if you're like me, and you prefer to be challenged by reading theology books and Bible commentaries, you should probably look elsewhere. If, however, you like inspiring and thought-provoking stories which challenge you to live and think differently about following Jesus, Stories that Feed your Soul by Tony Campolo is a great book.