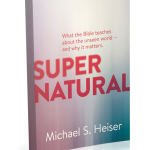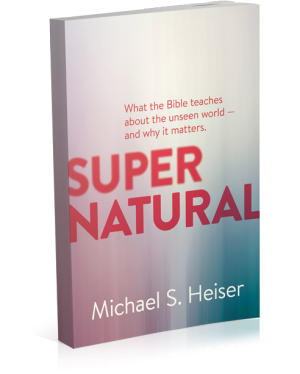 A couple months back, I wrote about Michael Heiser's book, The Unseen Realm. That book was a somewhat scholarly approach to what the Bible says about the world that many modern, Western people ignore: the spiritual world.
Now Michael Heiser has put out another book on the same theme, but with a more popular level audience in mind.
This new book is called Supernatural.
To be completely honest, I preferred The Unseen Realm over Supernatural, but that is probably because I prefer more detail and scholarly research rather than less. The basic content is pretty much the same, however, so if you want a quicker, easier read to get the same message, you might prefer reading Supernatural.
Both books encourage the reader to look at what the Bible says about what is going on in the world around us that we never see. Most importantly of all, Michael Heiser encourages the reader to live in a way that they can get involved in the world of the spirit by how we live, act, and think.
The first step, of course, is becoming aware that the spiritual world exists, and Michael Heiser's books will walk you through what the Bible says about it.
My only issue with the book is how much emphasis Heiser places on the "Divine Counsel" motif in Scripture. The theme is definitely prominent in Scripture, but I was never quite sure what Heiser was saying about this theme in the Bible, or what he was implying about it. Was he saying that there truly are other "gods" in addition to Yahweh? Was he saying that these were just the angels? Was he saying that somehow we could participate in this Divine Counsel? Where and how do the "principalities and powers" fit within these supernatural perspective?
I hope to have Michael Heiser on as a guest for my Theology.fm podcast in December to ask him some of these sorts of questions.
If you want to know more about the Spiritual realm, one (or both) of these books might be good to read. If you want to learn more about the content of them before you buy one, here is a video about the content of these books in Michael Heiser's own words:
You can buy Supernatural at Amazon.
FTC Disclosure: I was given a free copy of this book in exchange for an honest review.