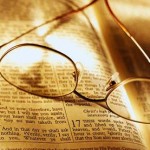 This is a guest post by
Alan Knox
. He is a PhD student in biblical theology at South Eastern Baptist Theological Seminary and a web developer. His dissertation topic is the purpose of the gathering of the church in the New Testament. You can follow Alan on
Twitter
and
Facebook
. If you want to guest post on this blog,
check out the guidelines here.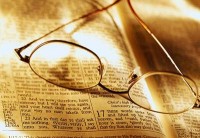 "I need a light."
What does that sentence mean? Obviously, most people who know English would also understand each word in that phrase. The words are not difficult, and the structure of the sentence is not difficult.
But, what does it mean?
We cannot decide what the sentence means until we know more about the context. Is the person trying to do something in a dark corner? Is she holding a cigarette? Did he just walk into a bar?
Of course, in this simple example, the ambiguity is caused by the range of meanings (and, in fact, different meanings) of the English word "light." When you add even more words with even more possible meanings and even different possible grammatical and syntactical connections, ambiguity is increased when trying to determine what a particular sentence means.
So, how do we know what sentences and words mean? We can only determine the meaning of sentences and words by examining them in context.
The paragraph is the most basic level of context. (Obviously, groups of paragraphs also form context.) Thus, the paragraph is also the most basic level of meaning. Think about that for a moment. Meaning is not found at the sentence, clause, phrase, or word level. Meaning is found at the paragraph level. Sentences, clauses, phrases, and words help build, explain, illustrate, and argue for the meaning of the paragraph.
Now, how does this apply to biblical studies? Well, to start with, that verse (you know, your favorite verse or your life verse) may not mean what you think it means, especially if you do not know what the verse or sentence means within its paragraph (and broader context).
Here are two examples:
1) I can do all things through him (Christ) who strengthens me. (Philippians 4:13)
Within the context, Paul wrote this sentence to emphasize that he can live in poverty or in plenty because Christ enables him. Paul did not write this to encourage athletes to do more than they thought they could do, nor did he write it to help struggling businesses. Of course, there are many, many misues of this passage. Can it be applied in other contexts? Perhaps, and probably so. But, we must be very, very careful when pulling it out of its context.
2) Behold, I stand at the door and knock. If anyone hears my voice and opens the door, I will come in to him and eat with him, and he with me. (Revelation 3:20)
In context, when John penned these words of Jesus, they were directed toward a church – the church in Laodicea. While this church had problems, they were still considered a church (i.e., they were God's people, not unbelievers). If this verse is applied to unbelievers (i.e., in an evangelistic invitation), the verse would not be used in its context.
Of course, there are plenty of other examples. These are simply two that I've seen used out of context very often.
So, what do we do? Primarily, we should seek to understand Scripture, as we understand all writings, within the context of what was written. While we will probably have to start our analysis and study at the word, phrase, clause, and sentence level, remember that we will not be able to determine meaning until the paragraph level.