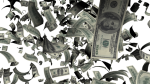 I have been noticing an increasing number of blogs make requests for money on their sites.
The blog owner says something about how they are doing a design update, or transferring all their posts and podcasts from one blog to another, and it is going to cost them $30,000 (Yes, I saw one blogger state that his new blog was going to cost this much!), and so if you have appreciated all the free posts and free podcasts which the readers have read over the years, would you please consider making a donation of any amount to help defray the costs of the blog.

Show Me the Money!
I decided this was such a good idea, I am going to write a blog post asking you, the reader, for money. If you want to make a donation, here is the Paypal button:
Oh, you don't see a Paypal button?
That's because there isn't one!
I hope you know I was kidding…
I mean, I was kidding about asking for money for this blog… I was not kidding that other bloggers are asking for money for their blog. I just don't understand it…
Let Me Bless You With Your Money
Nevertheless, I am going to ask you for money… but not for me. For you. I want to bless you with your own money. 
If you have appreciated this blog over the years, do me a favor, take a couple bucks (or a couple hundred bucks, whatever seems best to you), and put it in an envelope. Then write "Homeless $$" on the envelope. Then put it back into your wallet (or purse).
And the next time you see a homeless person, go up to them and say, "Hey! You gonna be here for a few minutes? See that __________ (fill in the blank with whatever fast food join or store is closest – McDonalds, Walmart, Taco Bell, Target, etc.). What do you want? I'll go buy it."
Then go buy it, and bring it back to him (or her). And look, maybe you are comfortable getting something for yourself and sitting there eating with him. If so, that's cool. If not, don't worry about it. If you want to stand there for a minute or two and chat. If not, that's fine too. Whatever you are most comfortable with.
But I tell you, not matter what you do, it will be a blessing for you. I promise (and so does Jesus).
If you are able to do this, feel free to come back here and share your story… I would love to hear it.
---