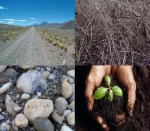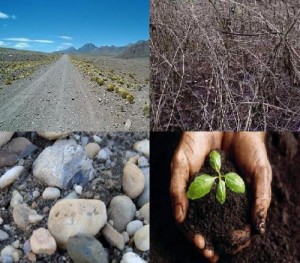 I've been mulling over the Parables of the Four Soils for several years.
When I stopped pastoring a church in 2006, I was preaching through Luke and had made it as far as Luke 8:3. I did preach a sermon on Luke 8:9-10, but I never did preach on Luke 8:4-15, the Parable of the Four Soils. I was a bit relieved, because at the time, I had no idea what this parable meant.
And the scary thing, Jesus says that the Parable of the Four Soils key to understanding the other parables (Luke 8:10).
But as I have thought more and more about it, the meaning has slowly emerged.
The Parable of the Four Soils as Traditionally Taught
I firmly believe that the Parable of the Four Soils has nothing to do with determining who is a Christian and who is not. This is the way most people read this parable. They see that word "saved" in Luke 8:12 and think that it is referring to how to determine who has eternal life. Since only the fourth soil produces an abundant harvest, some people think that only the fourth, fruitful soil represents a Christian.
An alternative view, held by some who are a bit more gracious, is that the final three soils represent Christians because they at least have life. At least they sprouted and grew a little bit.
However, I don't hold to either one of these positions.
The Parable of the Four Soils Reconsidered
If you have read my blog for a while, you may know that I always invite people to try to define the word "saved" in the Bible within the surrounding context of where it is used. Why?
Because although most Christians think "saved" means "get forgiveness of sins and receive eternal life so you can escape hell and go to heaven when you die" (or something like that), the truth is that the vast majority (99% or more) of the times the word "saved" is used in the Bible, it has almost nothing to do with such an idea.
Most often (nearly always), the word "saved" in Scripture refers to being delivered from some sort of temporal problem or calamity. Things like physical sickness or death, enemies, drowning, financial ruin, slavery to sin, etc.
And THAT is what the Parable of the Four Soils is about. The Parable of the Four Soils is about the four basic responses people have when they hear what the Bible has to say about how to be delivered from whatever problem is in their life (Luke 8:11).
The Context of the Parable of the Four Soils
The context of the Parable of the Four Soils makes this abundantly clear.
Jesus doesn't just want hearing; He wants obeying (Luke 8:16-21), just as He gets from the wind and the waves (Luke 8:22-25), demons (Luke 8:26-39), and a Jewish leader and a sick woman (Luke 8:40-56). Jesus then sends out the twelve to see how they will do at hearing and obeying, and also to give them some experience at seeing how others respond to the Word (Luke 9:1-6).
The bottom line point of the Parable of the Four Soils is this: Whenever the Word of God is proclaimed, to whomever it is proclaimed, there will be four basic responses. How do you typically respond?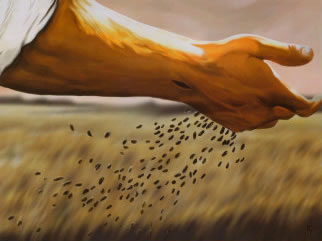 The Parable of the Four Soils goes on to describe the types of things that get in the way of us hearing God's Word and obeying it. Sometimes, the devil gets in the way, and simply keeps us from hearing and understanding the Word of God (Luke 8:12).
Other times, it is sin and temptation that stifles our growth. We initially hear the Word and believe it, but after a while, we return to our old patterns of sin, and the Word of God fails to take root in our lives (Luke 8:13).
Then there are the times that we truly want to follow God's instructions in the Bible, but the cares and business of life just get in the way. These things aren't bad things, they are broken dishwashers, family vacations, bills that need to get paid, and flowers that need to get planted (Luke 8:14).
Ideally, ultimately, we want God's Word to take root in our lives and product fruit (Luke 8:15).
Looking at the Parable of the Four Soils this way, we can see that any Christian can fall into any of the four categories at any time. In fact, since Scripture contains so many truths about various aspects of life, a single Christian can have all four types of soil in their life at one time! There are some areas in our life where we simply ignore everything the Bible says. Then there are areas where we initially obey the Bible, but then fall back into old sinful patterns. Then there are areas where we want to obey, but life gets in the way. And then there are areas where we are successful and fruitful in following Jesus.
The life of following Jesus then, is to make more and more of our life into the good soil. This is what discipleship is all about.
The Parable of the Four Soils Applied
Ideally, if we are good planters for the Kingdom of God, we want to be planting seeds in the best soil. It is this soil that gives a 3000%, 6000%, or 10,000% return on your investment.
If you look in the average church, we think that the good soil is the rich, powerful, pretty people. You know, those with seminary degrees, big smiles, and nice suits. Is that what good soil looks like?
I don't think so.
So what makes good soil? When I was young, my mom had some flower gardens, and every spring, she would go down to the lawn and garden store, and buy bags of "Manure" to put in her gardens. One year I asked her, "Mom, what is manure?" She said, "It's cow poop." What made mom's garden grow? Poop.
What makes good soil? Good soil is that which has a lot of nutrients in it. Good soil is that which has a lot of fertilizer. Excuse me for putting it this way, but I am convinced that the good soil people are those who have a lot of sh!t in their lives. Which people are these? The people we would normally think of as "bad people." The sinners.
And yet in most of our churches, we work hardest to keep these people out. Of course, we're all sinners, but we try to hide that fact from everyone else. We say "come as you are" but the super fine print says "only when you can act like us, talk like us, and look like us."
But when we look at Jesus, who did He pick to work with, minister to, and pour His life into? Tax collectors, sinners, thieves, murderers, prostitutes, drunkards. Why? He knew a good investment when He saw one. In bad people, Jesus saw fields upon fields of rich, fertile soil just waiting to be planted. Bad people make good soil.
So are you upset about a particular area of sin in your own life? This may be just the area in which Jesus is about to plant some seed! So watch out! The plants are about to sprout! And you thinking of trying to minister to a certain group of people? Before you do, consider how much sh!t is in their lives… If there is not a lot of fertilizer getting tossed around, you might have trouble finding good fertile ground in which to plant the seed of Scripture.
Have you ever heard this interpretation of the Parable of the Four Soils? If so, where? If not, how does it strike you? Weigh in below!