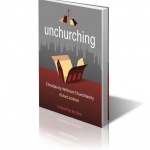 I first got to know Richard Jacobson through his interaction with me on Twitter, Facebook, and his comments on this blog. I liked what I saw and started reading his blog, where he creates insightful and humorous cartoons and videos about the church and following Jesus.
So when he asked me to read and review his book, I said "Yes!" as quickly as possible.
(By the way, if you are an aspiring author, THAT is how you do it. I get a couple emails a day from people who want me to read and review their book, but who have never read my blog or one of my own books, have never left a comment on my blog, and who have never interacted me on Twitter or Facebook. Publishing, like everything else in life, begins with relationships. Richard's book is proof. It debuted at #1 on Amazon in his category.)
The book that Richard wrote is called Unchurching. I have written several books about church myself, but this one is better than any of the ones I have written. At least … I like the way he organized his material and presented his ideas.
The book chapters are all quite short. This means that even if you only have five minutes here or there to read the book, you can likely finish a chapter in that amount of time. This is a smart way to write a book for today's busy readers.
Best of all, even though Unchurching is a critical look at the church and contains a call for people to follow Jesus away from the four walls of Christendom, the book is incredibly gracious and kind. I could find no judgmental language, no finger pointing, and no condemnation.
I loved how he said that asking someone "What church do you go to?" is like asking someone "What family do you go to?" The second question makes no sense. We do not go to a family; we are in a family and we operate as a family. This is helpful as well, because the church is like a family, and when we think about it as a family, a lot of the questions that trip us up about how to "do church" fade away. Very rarely, for example, will a family ever have questions about "What day of the week should we meet?" or "Who gets to talk when we are together?"
Based on this idea of the church as a family, Richard Jacobson goes on to talk about church elders as facilitators, on how to carry out conflict resolution within the family of God, and a whole host of other related topics.
All in all, this is a great book about the church. If you have questions about what the church is, how it is to function, and why so many Christians today can confidently claim that they are better able to follow Jesus and be the church in the community now that they have stopped attending a Sunday morning meeting, this book is for you.
In a month or so, I plan on interviewing Richard Jacobson on my Theology.fm podcast, so make sure you tune in for that. Until then, buy a few copies of his book … one for yourself and a couple more to give away. Go here to get your copies of Unchurching today.